If Your Life Isn't Working Out
Yesterday a magazine editor asked me:
Dan, I'm looking for a checklist of sorts… once you've figured out that life isn't working, what are the steps to reshaping your work, or creating a new opportunity.
Sure - happy to pitch in.
85% of the process of having the confidence of an authentic "fit" in your career comes from looking inward first. We get the cart before the horse by looking at who's hiring or searching out the hottest business opportunities.
Trust your passions. Don't be deterred because you've been told your idea is not "realistic" or "practical." Passion drives success in unusual ventures.
Create a clear plan of action. Passion and enthusiasm alone are not enough. You need a strategy and a timeline.
Look forward. Discouragement, resentment, guilt and depression are emotions connected with looking at the past - what you are coming from. Confidence, enthusiasm and boldness overtake those negative emotions as you become clear about what you are moving to.
Commit to one year of focused action without looking back.
"Success is never an accident. It typically starts as imagination, becomes a dream, stimulates a goal, grows into a plan of action - which then inevitably meets with opportunity. Don't get stuck along the way." Dan Miller, author 48 Days to the Work You Love.

February 14, 2011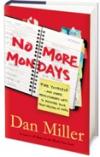 Dan Miller is today's leading authority and personality on careers and 'Work You LoveTM'. As bestselling author of 48 Days To The Work You Love, and now No More Mondays, Dan reaches over a million people every month ia his newsletter, podcast, and blog with the best trends and opportunities in the workplace and small business. For more information, visit http://www.48days.com.