Is It Time to Change Jobs?

Yes, I did see several ads in Sunday's paper for companies that need to hire people immediately. For some, if you just show up for the training, you'll get a Free Turkey! On the same page an ad for truck drivers boasted a $3000 sign-on bonus. Others are offering catered food and free coffee. Home computers, on-site day care, dry cleaning, and fitness centers have become more common as perks for ongoing employees. Tuition reimbursement, car allowance, extended vacation time and telecommuting are other popular options to entice applicants. One company in provides each employee with a new BMW to drive for as long as they work there as part of their incentives to attract the sharpest candidates.
I just received a call from a good friend who left a long-time position about two years ago. He had been with this former company for many years and was highly respected there. But he chose to move to another company in his industry where more innovation and opportunity seemed obvious. Today he received notice that November 30th will be his last day. Did he make a mistake in making that change two years ago? Or has he perhaps refined new skills that make him a candidate for an even better opportunity now?
Remember that change is relentless and will affect each of us in some way – this year. While changing jobs and companies may be intimidating, keep in mind the options that provides. A career path within one company may likely offer 3-4% increases, whereas changing companies often allows a doubling or tripling of income. And I often see that change – even unwelcome and unexpected change – serves as a catalyst for waking up long forgotten dreams and aspirations. Could it be that the change you are facing could be the open door for finally moving into work that is meaningful, fulfilling – and more profitable than you've ever experienced?
My advice: Don't change jobs for a free turkey, but do look around at the new face of opportunities, the incentives being offered to competent, enthusiastic workers, and the potential for changing your work model dramatically.
---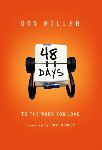 Dan Miller
is President of The Business Source, founder of "48 Days" and author of
48 Days To The Work You Love
and
48 Days To Creative Income
. He is the growing authority for creating effective life plans that are achieved by integrating natural gifts, unique personality traits and one's own values and passions. His unique clarification of how God gifts us will introduce you to a new sense of freedom and fulfillment of your life's calling. For more information, visit
http://www.48days.com/
.