For more than 50 years Vivian worked as a nanny for a number of families in Chicago. No one knew she was a photographer. Her photos were stored in a public storage facility. After her death, when she didn't show up to pay her storage fees, the contents of her space were turned over to an auction house. John Maloof, a 29-year-old eBay entrepreneur, purchased the bulk of the 100,000 photo negatives and more than 1,000 rolls of undeveloped film for $400.
The photos were taken around Chicago during the 1950s - 1990s. Her work is now being described as perhaps "one of the greatest artistic photographic collections of our time." And obviously, her photographs will be seen as very valuable.
Like Vivian Maier, Emily Dickinson lived a mostly introverted and reclusive life. No one knew Emily was a writer until after her death. Only about a dozen of her poems had ever been seen. When they cleaned out her room they found more than 1,800 of the finest poems every written in the English language.
Vincent van Gogh suffered from anxiety and increasingly frequent bouts of mental illness throughout his life and died, largely unknown, at the age of 37 from a self-inflicted gunshot wound. Most of his 2,000 artworks were produced during his final two years. Today, his pieces are among the world's most recognizable and expensive works of art.
So - is the world seeing your strongest talents now, or will we have to wait until you are dead to recognize your best work? I know we all want to be part of something that goes beyond our own lives, but it's also reasonable to want to be part of something great today. This is not about being modest; it's about living a double life. One in which your daily work has no connection to your passion. Where you have to hide your true talent in order to "make a living."
Do you have a secret talent that you're not sharing?

January 17, 2011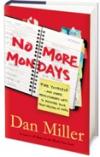 Dan Miller is today's leading authority and personality on careers and 'Work You LoveTM'. As bestselling author of 48 Days To The Work You Love, and now No More Mondays, Dan reaches over a million people every month ia his newsletter, podcast, and blog with the best trends and opportunities in the workplace and small business. For more information, visit http://www.48days.com.