Need a Job?

I know the news media loves to scream the bad news that everyone is laying off. It just makes emotional headlines, but of course it's not actually true. It's never been easier to start your own business – and lots of opportunities exist even in more traditional jobs, if you know where to look.
A recent edition of Fortune magazine listed some of the growing industries:
Fisherman – job listings are up at monster.com in the farming, fishing, and forestry industries.
Electrical Engineer – White-collar job site theladders.com has seen a 29% jump in openings for electrical engineers.
Math Teacher – the education sector added more than 32,000 jobs in January; science and math teachers are in high demand.
Nurse – According to the Bureau of Labor Statistics, the health-care industry added 19.300 jobs in January.
Secret Agent – G-men are wanted by the FBI, which recently announced a "hiring blitz" of 850 new agents.
CareerBuilder.com currently is showing 1.6 million job listings, including doll fashion designer at $62,610 and ice cream taster at $53,810.
CoolWorks.com has some amazing opportunities like living and working in The Island House on Mackinac Island.
JobMonkey.com may lead you to that cruise ship job you always dreamed of or working for a dude ranch along with seasoned cowboys.
The point is – if you need a new opportunity, just look in the right places. Not every company is laying off and there are more creative options than ever before. Now may be the perfect time to embrace those childhood dreams of what you wanted to be when you "grew up."
---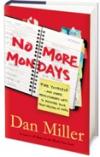 Dan Miller is today's leading authority and personality on careers and 'Work You LoveTM'. As bestselling author of 48 Days To The Work You Love, and now No More Mondays, Dan reaches over a million people every month ia his newsletter, podcast, and blog with the best trends and opportunities in the workplace and small business. For more information, visit http://www.48days.com.