The Profitable Good Samaritan?

March 27, 2008
Last week I received a note from a gentleman who has been an auditor, fighter pilot, stock trader, missionary and pastor. He has made and lost his first million and at age 42, is trying to find God's will for his life. His real goal – to be "a profitable Good Samaritan."
Is that possible – to be a "profitable Good Samaritan?" Or is doing good always connected to being broke yourself? What do you think? Is it easier to help someone from a position of financial strength or from a position of poverty? Personally, I'm pretty clear that it's a whole lot easier to provide help while I don't have to worry about my own lights being turned off.
A primary principle of the Jewish culture is that the only way to achieve wealth is to attend to the needs of others and to conduct oneself in an honorable and trustworthy fashion. If that's true then what does it mean to pray to God for more income? What it appears you are really asking for are more opportunities to serve the people with whom you come in contact.
So what are you doing to serve more people? If you have determined the best application of your skills and talents you should be seeing more people served and more wealth coming your way. Don't think it's responsible to just do something meaningless in order to get a paycheck. You're sabotaging the process for helping the most people -- and for bringing profits your way.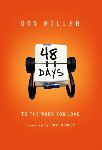 ---
Dan Miller is President of The Business Source, founder of "48 Days" and author of
48 Days To The Work You Love
and
48 Days To Creative Income
. He is the growing authority for creating effective life plans that are achieved by integrating natural gifts, unique personality traits and one's own values and passions. His unique clarification of how God gifts us will introduce you to a new sense of freedom and fulfillment of your life's calling. For more information, visit
http://www.48days.com/
.