The Upside of Company Losses

General Motors announced recently that they will be offering buyout packages to their entire
U.S.
hourly workforce - 74,000 workers.
These "please leave" packages will offer between $45,000 and $65,000 to leave the property now.
And that's with continuing full pension and health care coverage.
If you've been there 10 years and you're willing to give that up as well, you can just grab a cool $140,000 and ride off into the sunset.
Here's where hard negotiating has gotten a GM worker today. The current UAW member at GM has an average base of $28.12 an hour - but, with the cost of benefits, including pension and health care costs, that hourly figure rises to $78.21, according to the Center for Automotive Research. So do the math on that one. At just a normal 40 hours a week, that translates out to $162,676 annually. Hey I know physicians and dentists who don't make that kind of money.
Of course that also put General Motors on track to post their worst year in history in 2007 - reporting a net loss of $38.7 billion. Okay, you may not think it's "fair" to be eliminating workers in order to bring in new people at less than half the cost. But if you think you are owed "security, predictability and retirement" you're going to be disappointed. No company can survive a business model with this kind of loss and where labor costs are so disproportionate with the rest of the world.
If I were a GM worker today I would be asking some questions like these:
1. Has this been my dream job - the fulfillment of my purpose here on earth?
2. How likely is it that I will have any job here two years from now?
3. Is it reasonable to think that any company can survive with a one-year $38.7 billion loss?
4. Can I come up with 4-5 possibilities for ways I could invest $140,000 to see a good return?
5. Do I have valuable skills that could benefit any number of other companies?
6. Is this my golden opportunity to start my own venture?
7. How fast can I get my check?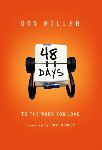 ---
Dan Miller is President of The Business Source, founder of "48 Days" and author of 48 Days To The Work You Love, 48 Days To Creative Income and the recently released No More Mondays. He is the growing authority for creating effective life plans that are achieved by integrating natural gifts, unique personality traits and one's own values and passions. His unique clarification of how God gifts us will introduce you to a new sense of freedom and fulfillment of your life's calling. For more information, visit http://www.48days.com/ .