Think You Can or Think You Can't?


As a career coach I'm am being contacted by lots of other career coaches right now wondering what to do. The common theme seems to be that with things so tight right now no one is going to spend money on a non-essential like "coaching."
Please help me understand this – there were 509,000 job losses in the last quarter of last year, 589,000 more in the month of January and over 600,000 in February. How could it possibly be a better time to be in the business of career coaching than right at this very minute?

But what we see is a mindset that pops up regardless of the circumstances. When the economy swings back around and everyone is happy and employed again, those same coaches will be saying that everyone's happy now and nobody needs our help.
Coaches who recognize the opportunity now will also be thrilled when people know they're in the driver's seat and still want to explore better options.

The same mindset issue will determine who does well in real estate, banking, mortgage, construction, or restaurant businesses in the next 18 months.
Spring is coming – I'm talking with landscape designers who "know" no one will be spending any money this year, and also with those who can't wait for a break in the weather because they know people won't be traveling as much this year and will be more interested than ever in having a gorgeous home yard.

Remember the old Henry Ford adage: "Whether you think you can or think you can't; either way you're right."
Posted June 11, 2009.
---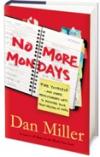 Dan Miller is today's leading authority and personality on careers and 'Work You LoveTM'. As bestselling author of 48 Days To The Work You Love, and now No More Mondays, Dan reaches over a million people every month ia his newsletter, podcast, and blog with the best trends and opportunities in the workplace and small business. For more information, visit http://www.48days.com.