Watch Out for Bogus Oil Spill Jobs

As with any disaster there are immediately people who are capitalizing on the Gulf Oil Spill. Bogus ads for oil spill clean-up jobs in the Gulf are appearing in newspapers, online, and in email inboxes. Many of these scammers claim they have jobs waiting for you once you pay them for training or certifications. Others require you to pay a fee to "apply" for positions. Some are using emails that appear to be from BP or they falsely claim they've been authorized by BP to hire clean-up crews.
The typical red flags for scams apply here:
Guaranteed jobs - no company makes guarantees about placing someone in a job.
Up front payment - legitimate companies don't ask for training expenses in advance.
Vague offers - we have "thousands of jobs" and "get hired today" and "$40 an hour" are come-ons.
Your financial information is required - no real employer asks for your bank information to hire you.
Here are some helpful sites for legitimate information about possible jobs:
The kind of people who would take advantage of a disaster and the vulnerability of people desperately needing jobs defies description. There are far too many real ideas available for making money to have to resort to scamming good people. I have to assume these leeches are lacking intelligence, morals, ethics and creative thinking. Avoid them.
July 19, 2010

---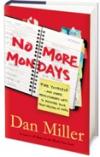 Dan Miller is today's leading authority and personality on careers and 'Work You LoveTM'. As bestselling author of 48 Days To The Work You Love, and now No More Mondays, Dan reaches over a million people every month in his newsletter, podcast, and blog with the best trends and opportunities in the workplace and small business. For more information, visit http://www.48days.com.