What is Your "Donut Hole?"
Joanne and I were in Chicago recently. On a bitter cold morning we planned to have breakfast at the famous Lou Mitchell's restaurant. After walking several blocks, fighting the cold, we finally found this very plain place, started as a family restaurant in 1923. One day in 1958, someone decided to give out donut holes to the people waiting in line to get in. The response was such that they have never stopped. Now 50 years later that is still their magic formula. Trust me, the place is nothing fancy - it's in an unattractive part of town, in the bottom of an old office building, and they cram you in long tables where you'll be rubbing shoulders with people you've never met before. But the magic continues - while other restaurants with big names are struggling, you always have to wait in line at Lou Mitchell's. You don't even get your own table - they just set you at long tables with all the other diners.
I saw that some customers expressed gratitude for the gesture but refused the donut holes. Others took one and occasionally someone would eat two while waiting. I would guess that this little magic costs them less than $.05 per customer. But the intrigue of that one little difference seems to drive business success that others dream of.
What's the "donut hole" in your business? Several years ago we added 48 peppermint candies in all of our Super Saver Packages. I intended to use that as a 30-day promotion. However, the response was so amazing we have never discontinued it. People notice - we tell them to eat one a day and expect to enter a new season of life on the 49th day. In a business where 10-12% returns are expected, ours are less than .01%.
As you can see, your unique selling proposition (USP) doesn't have to be rocket science, high tech or expensive. But if you have a product or service to offer, what could you do to remarkably set you apart from the competition? Or as my friend Seth Godin wrote, what could you do to have a Purple Cow in a world of brown cows?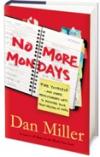 Dan Miller is today's leading authority and personality on careers and 'Work You LoveTM'. As bestselling author of 48 Days To The Work You Love, and now No More Mondays, Dan reaches over a million people every month ia his newsletter, podcast, and blog with the best trends and opportunities in the workplace and small business. For more information, visit http://www.48days.com.