The Secret to Controlling Your Money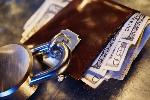 Each year I speak to literally thousands of people about their money in No Debt No Sweat! Christian Money Management Seminars around the country. At the breaks, I get a lot of interesting questions and comments. Sometimes folks come up and ask how Bonnie and I control our own money.
Before I tell you how we do it, be prepared. There's no magic. There's no money tree in the backyard at our place. But this one thing that we have done has helped more than anything else I can think of.
First, let me tell you that it's not complicated—it takes about five minutes to implement. Second, it costs very little—less than a dollar. Third, this secret weapon really isn't a secret at all. As a matter of fact, it may be the single most recommended budgeting technique of all time! Money counselors and financial planners everywhere recommend this little management technique.
What is it? It's the world famous "Envelope System." We have found that the best way not to overspend is to have a series of envelopes—each with the name of one of the monthly expense items listed in our Personal Financial Freedom Plan. The envelope system works best with those smaller items that can easily spin out of control and blow the budget. For instance, you might have an envelope for some of the following: Restaurants (what I call "Recreational Eating"), Allowances, Gifts, Groceries, Gasoline, etc. Then, on payday, cash your check and put the allotted amount of money into each envelope.

As the month progresses and you deplete the money in that envelope, you know you have reached your allowable spending limit—so you stop spending.
This means when church is over on Sunday and someone comes up and says, "Hey let's go to McDonalds for lunch," you and your spouse have a quick huddle. Pull out your envelopes (Bonnie kept them in her purse) and see if there's any money in the Restaurants Envelope. If there is, guess what? That's right—you're heading for the Golden Arches. But, if there's no money you're heading home to eat soup and crackers…or, if you prefer, crackers and soup. The point is, you aren't going out to spend money you don't have!
One last little suggestion: If your PFFP allows $50 for Restaurants, that's fine. But don't put a $50 bill in the envelope. If you do, you'll probably go somewhere, spend $6 and pocket the remaining $44—and forget what happened. Put small bills in your envelopes.
---
Steve Diggs presents the
No Debt No Sweat! Christian Money Management Seminar
at churches and other venues nationwide. Visit Steve on the Web at  www.stevediggs.com or call 615-834-3063. The author of several books, today Steve serves as a minister for the Antioch Church of Christ in Nashville. For 25 years he was President of the Franklin Group, Inc. Steve and Bonnie have four children whom they have home schooled. The family lives in Brentwood, Tennessee.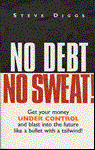 A complete financial compendium, 19 chapters
• What you can do today to get out of debt and kill the Debt Monster
• A,B,C's of handling your money God's way
• How to save, invest, and retire wisely
• How mutual funds work
• How to stop fighting over money
• What to teach your kids about money
• Learn how home & car buying, college financing and insurance work.
• How to develop a budget that works -- forever!
• Features simple charts, graphs, and easy-to-use forms.
Click here to learn more or to order.