What is the True Cost of Living in Retirement?
Steve Diggs

No Debt No Sweat! Financial Seminar Ministry

2007

26 Oct

COMMENTS

All the financial wiz kids have formulas for how much retirement living will cost. The traditional "wisdom" has been to tell people that they'll need about seventy- to eighty-percent of their pre-retirement income in order to enjoy a graceful golden age.
Well, like most formulas, this one works—sometimes. It's possible that seventy-five percent of your pre-retirement income may be enough. And, after all, in retirement, you may not need to continue doing some of the things you've been doing. You may not have to buy expensive dress clothes for the office anymore. You may not have to eat out as often. Since you'll have more time, you may be able to augment some of your needs by growing a vegetable garden. And, one big difference: You won't have to continue setting aside that ten or twenty percent of your income for retirement investing. (You have been doing that—right?)
Also, consider what retirement means to you. If you cut your expenses and live frugally you won't need as much. You may decide that vacations can give way to more time spent in the yard, or visiting sick friends, or helping out at church.
Different people have different wants and desires. We will also retire into different circumstances.
It's possible that the retirement years could cost just as much, or even more, than the pre-retirement years. What if inflation goes through the roof right after you retire? Or, what if you have health problems and lots of medical costs? Or, what if your health is really great and you decide to do some serious traveling? Or, what if God leads you to do mission work and you incur the associated expenses of that lifestyle? And what about the grandkids? Do you want to visit them regularly? Maybe you would like to have extra money to buy them gifts.
You see, in the real world, formulas don't always work. That's the problem with reality—it's unpredictable, it's messy, and it varies from one person to another.
Granted, Jesus teaches us not to worry about tomorrow because today's worries are enough for today. Let tomorrow worry about itself, because each day will have enough difficulties of its own. And, without God in the equation, the future is a frightening prospect. But with Jesus, we understand that, despite temporal struggles and setbacks, in the end all will work out well.
But remember, even Jesus acknowledged the temporal. In Luke 14, Jesus mentioned that even people of the world plan ahead, "For which one of you, when he wants to build a tower, does not first sit down and calculate the cost, to see if he has enough to complete it?" (v. 28)
My best advice: Start early, stay focused, diversify, and use what God gives you today to prepare to be at your best for Him tomorrow.
---
Steve Diggs presents the No Debt No Sweat! Christian Money Management Seminar at churches and other venues nationwide. Visit Steve on the Web at www.stevediggs.com or call 615-834-3063. The author of several books, today Steve serves as a minister for the Antioch Church of Christ in Nashville. For 25 years he was President of the Franklin Group, Inc. Steve and Bonnie have four children whom they have home schooled. The family lives in Brentwood, Tennessee.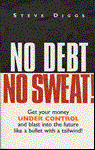 A complete financial compendium, 19 chapters
• What you can do today to get out of debt and kill the Debt Monster
• A,B,C's of handling your money God's way
• How to save, invest, and retire wisely
• How mutual funds work
• How to stop fighting over money
• What to teach your kids about money
• Learn how home & car buying, college financing and insurance work.
• How to develop a budget that works -- forever!
• Features simple charts, graphs, and easy-to-use forms.
Click here to learn more or to order.