You can escape the debt trap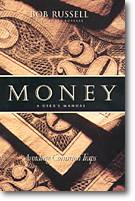 Nearly one million Americans file for bankruptcy every year and thousands seek help through credit counseling because they are too far in debt to get out. Chances are good that even you have fallen into the debt trap at least once in your life, or perhaps you or a loved one is struggling to get out right now.
Take comfort. There is a way of getting - and staying - out.
Don't overestimate the importance of wealth. Money won't solve your problems, bring happiness, buy friends, or make you important.
Skip instant gratification. Learn discipline - the ability to postpone pleasure. You get into financial and spiritual difficulty when you cannot postpone pleasure until the proper time. The desire for instant gratification leads to impulse-buying - the easiest path to the debt trap. Interestingly, men are worse than women about spending money they don't have.
Don't spend money on sin. Think of the millions of dollars that are wasted on alcohol consumption and drug use each year, as well as pornography and gambling. What seems like a trivial pursuit can lead to addiction and the devastation of lives. If you have that pattern in your life, admit your problem and seek help.
Don't overspend. Live within your means. Don't get drawn into the credit card trap of spending more than you intend, or paying off less than the full amount. Simplify your life so that you can live comfortably within your means.
Accept responsibility. When you find yourself headed for the debt trap, don't look to quick fixes (lotteries or get-rich-quick schemes) or others to bail you out. Learn to be disciplined and willing to do the difficult things necessary to break your habits and get out of the trap you're in.
Develop a plan. You can't go on living the same way and expect results other than what you have. Write down a better plan for living.
Submit to the Father's will. Listen to what God is saying to you: in scripture, in sermons, in the comments of friends. Humble yourself before the Father and ask for forgiveness and guidance.
Start immediately. Once you have resolved to fix the problem and devised a plan, don't wait to put it into action. Although it may take a long time to recover fully, you will feel better knowing you are beginning to get things under control.
Taken from Money: A User's Manual by Bob Russell with Rusty Russell. Copyright (c) 1997 by Bob Russell. Used by permission of Bob Russell, Louisville, Ky. Available only through The Living Word, 1-800-366-9673, \$7.79 plus shipping (tax where applicable).
Bob Russell pastors Southeast Christian Church, a 10,000-member church in Louisville, Ky. His previous books include Marriage by the Book and When Life is a Zoo, God Still Loves You. Bob and his wife, Judy, oversee Living Word Ministries, a tape ministry.Rusty Russell holds a B.A. in Biblical Studies from Cincinnati Bible College. A former teacher, school administrator, and preacher, he now serves as a research associate for Southeast Christian Church.