Curriculum in Cyberspace
Kathi Kearney

Educator, Speaker, and Home-School Advocate

2002

9 Sep

COMMENTS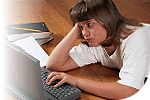 A year ago last August, a home-schooling mom came to the Crosswalk.com HomeSchool Chat Room with a difficult dilemma. She had home schooled her children very successfully the previous school year and wanted to continue. However, due to major and unexpected financial reversals, her family had no money whatsoever to purchase curriculum materials for the new school year. She posed the question to the chat room: "What should I do?"
Everyone in the chat room had great ideas, from local curriculum swaps to offers to share their own used curriculum with this mom. As part of the conversation, I kept mentioning free curriculum resources that I knew about online. Finally the entire chat room turned to me and said, "Kathi, you really need to create a Web site where you can post these great links!"
Unfortunately, I am the HTML Dummy of the World. I have tried numerous times to learn how to make a website, with little success. (I even had an assigned computer tutor for a semester when I taught at a major university. Her job was to teach me to make a Web site. Fifteen weeks later, she gave up in utter frustration). However, the chatroom participants kept encouraging me. Finally, Terri Camp offered to host (and post!) the free curriculum links on her Ignite the Fire! Web site, and the Free Firewood Web site was born.
Shortly afterwards, the idea of a regular column that featured some of the best of the free resources on the Internet began to percolate. I have worked with home-schooling families for 23 years, long enough to see first-hand the difference that home schooling has made for families and individuals, both spiritually and academically. Many of these families have been families of very modest means, where purchase of curriculum might mean making a choice between a much-needed textbook for a high school student, or new shoes for a younger sibling.
As I spoke with that home-schooling mom in the Crosswalk.com HomeSchool Chat Room that night a year ago, I was reminded of all the other home-schooling families I've met over the years who did not have the funds for the kinds of educational resources they wished they had for their children.
Twenty years ago, there was no publicly accessible Internet. Now, Internet access is available to most families, either at home or through public libraries. The Internet has opened up a huge variety of resources for home-schooling families. So much high quality, substantial curriculum is available for free on the Internet that any parents who feel called to home school their children should not let lack of money for the purchase of curriculum keep them from home schooling.
In future columns, we will investigate many free Internet resources for home schoolers: from complete curriculum and online courses to curriculum guides, textbooks, organizers, tests, and reference materials. We will also discuss Internet safety and how to evaluate online curriculum materials. These columns will feature resources for all ages and grades, from preschool through college. I invite you to join us in this journey of Curriculum in Cyberspace, and bring your friends!
Kathi Kearney has been working with home-schooling parents for 23 years. She works as an educational consultant for parents of gifted children. She has taught at the university level, and is a free-lance writer.You will often find Kathi in Crosswalk.com chat rooms, helping home-school moms.