Strategies for Expanding Your Child's Attention Span
Michelle Painter

Crosswalk.com Contributing Writer

2012

4 Jan

COMMENTS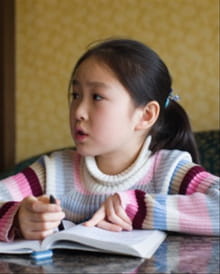 Recently, I received an email from a young mother overseas in need of suggestions for how to increase the attention spans of her children (especially her son). After contemplating what I've found to be most effective, the following are a few of my very favorite strategies.
Many students must first exercise physically before they can ever focus mentally.
Jumping jacks, sit ups, laps around the yard, etc. are all excellent ways to burn up the physical energy that distracts students' brains making it virtually impossible for learning to occur. This tactic almost never fails as long as your approach comes from the right spirit. Our sons recognize that school time exercise is never used as punishment, but exists as an effective tool that they can use to "jumpstart" their brains. Understand… there may be days when it takes 125 jumping jacks (in sets of 25) to encourage a brain through multiplication facts or long division, but the physical activity helps students regain focus once the aerobics are accomplished. Nowadays, when our sons are having a difficult time concentrating, without delay, they take an "exercise time-out". Afterward, they can return to successfully overcome the challenge.
A schedule just might do the trick!
I know many of you are thinking… "not that schedule thing AGAIN! I hate being tied to a schedule!" However, think back to when you were a student. A well-established schedule reassured you and developed your accountability. You knew when school started, when recess was, when lunch was, and when school let out. You knew when assignments were due, how much class time you had to work on them, and how much time you had to complete the assignments before athletic practice, the big game, bedtime, etc. This regularity helped you pace your homework time, your chore time, your personal hygiene time, and your free time to fit the requirements of the schedule leaving little time for distractions to slither in. As students, we knew what to expect, we knew what was expected of us, and any lack of diligence in completing our tasks would lessen our free time. All in all, the schedule taught us how to remain focused… or at least it should have.
Allow only 1 hour (OR LESS!) a day for "technology time."
Technology can so stealthily steal away the attention spans of our children and develop entertainment-needy mentalities instead. Television, computers, video games, personal music systems, and the like can effortlessly train the brains of our youth to depend on hi-tech entertainment to excite their stimulus-addicted intellect. Yes, technology can be used effectively, but so too can dynamite! Carefully used, technology is terrific. However, carelessly used, technology grows an intellectual laziness within our children, which, in turn, can slowly rob them of their teach-ability and creativity. Limiting "technology time" will help encourage our children's desire for creative play and learning rather than a dependency on techno-paraphernalia.
READ, READ, READ!
Whether independently, with a sibling, or as a family, reading develops attention spans as children maintain focus to find out what happens next in the story. Imagination, vocabulary, grammar, comprehension, and writing abilities are just a few of the innumerable benefits of reading good literature. When our boys outgrew afternoon naps, we continued the daily downtime by having "reading time". We still provide our boys the option of resting or reading for 1 hour each afternoon after lunch, and reading is usually more preferable than sleeping any day! Our pre-readers have always been provided interesting picture books to peruse… encouraging their "reading" abilities as well. This focused reading time, in conjunction with our family read-a-loud and devotional time, has produced a fervor for reading in all of our sons and nurtured their ability to concentrate.

Proverbs 22:6 explains…
Train a child in the way he should go, and when he is old he will not turn from it.
Ultimately, our children's attention spans are direct results of how we, as parents, have (or have not) trained them.

---
Having a difficult time finding good books? Visit 1000 Good Books List
Michelle Painter is a wife and best friend to Bobby, a mother to three amazing sons, and a former public school teacher called by God to home school. She considers home schooling a challenge, a privilege, and an undreamt of blessing. She prays that others may glean encouragement, empowerment, and blessings from what she writes. She would love to hear from you at her blog, http://www.homeschoolblogger.com/BlessingsUndreamtOf/