Stop Doing What You've Always Done
Dr. David B. Hawkins

Directer, The Marriage Recovery Center

2012

25 Sep

COMMENTS

Editor's Note: Do you need sound, Biblically-based advice on an issue in your marriage or family?  Dr. David Hawkins, director of the Marriage Recovery Center, will address questions from Crosswalk readers in his weekly column. Submit your question to TheRelationshipDoctor@gmail.com.
"I'm so tired of the way my wife treats me," Jim, an older man, wrote to me recently. "We've been married for over thirty years, and nothing really has changed. She's never respected me, complains about me all the time, and we fight constantly."
I continued reading the email, looking for a critical piece of information that was strangely absent. Nowhere did he say what he and his wife had done to end their patterns of complaining and bickering. Nowhere did he suggest they had entered into, and continued in, depth counseling. Nowhere did he share how he had read helpful books on marriage relationships. The only thing Jim did in his email was more complaining. He complained about his mate's complaining.
Now before we become too critical of Jim, I must tell you that I receive emails like Jim's every day. Every day! Listen to another email I received recently.  
Dear Dr. David. I don't know what to do anymore. I have trusted God to change my husband, but he keeps drinking and looking at pornography. When I catch him he says he is sorry and that it won't happen again. But his promises aren't worth anything to me anymore. How can I trust a man who breaks his promises? How can I believe he won't look at pornography again when he keeps breaking his promises? Then he wonders why I feel cold and distant from him. Am I wrong to expect him to keep his promises? Is it right for me to not trust someone who has broken my trust time and time again? Please help.
Here we have it again: someone who is profoundly discouraged, but does little to really change the situation. Both this man and woman indicate they want their situation to change, but they won't change themselves. Focused on the shortcomings of their mate, they fail to look in the mirror at the ways they enable things to stay exactly the same.
There is a popular saying worthy of our consideration: Do what you've always done and you'll get what you've always got. Or, said a bit differently, Doing what you've always done and expecting different results is the definition of insanity.
Please don't get me wrong. I understand how hard it is to change. I am keenly familiar with wanting my life to improve without having to change anything. I practice this magical thinking regularly with the same disappointing results. I want my wife to read my mind, my friends to know what I want and do it without me asking, and for my life to be more peaceful while I work too hard and take too little time off. I get it. But, getting it doesn't work.
So, what does work? What do the Scriptures tell us about taking responsibility for our lives? Here are some words worth consideration:
"A man reaps what he sows. The one who sows to please his sinful nature will reap destruction; the one who sows to please the Spirit, from the Spirit will reap eternal life." (Galatians 6:7-8)
I love this Scripture because it suggests we are responsible for what happens in our lives: we can plant seeds of goodness, and reap wonderful benefits, or we can plant seeds of selfishness and reap destruction. Inherent in this Scripture is also the message that we must allow others to reap the consequences of their behavior, and we must guard against enabling destructive behavior.
What can I say to Jim, who complains about his wife's treatment of him? I want to know if he is seeking God in prayer and meditation for wisdom in how to effectively respond to her complaining. I want to know if he is seeking wise counsel on how to interrupt and change their destructive patterns.
What can I say to the woman whose husband is bound up by addictions to alcohol and pornography? Wishing he will change is tantamount to handing him another bottle. Hoping he will stop viewing pornography is like winking when you see him peering into his computer screen. This woman must decide to do something different—she must intervene in the problem. She must review, probably with a professional counselor, all the ways she enables this horrific behavior to continue. She must gain the strength and courage to act different, to tolerate less and insist on more change.
Does this kind of action require courage? You bet. Can it be done under our own steam? No way. We must surrender to God's power and strength, but then do our part to set limits on the behavior that is killing our marriage, our strength and spirit. Once we stop doing what we've always done, getting what we've always got, we open ourselves to new possibilities. Change is possible. New marriages are possible. New relationships with God are possible.
I'd love to hear how these strategies work for you.  
July 20, 2009.
---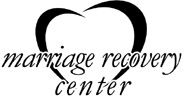 Dr. Hawkins is the director of the Marriage Recover Center where he counsels couples in distress. He is the author of over 30 books, including When Pleasing Others Is Hurting You, Love Lost: Living Beyond a Broken Marriage, and Saying It So He'll Listen. His newest books are titled  The Relationship Doctor's Prescription for Healing a Hurting Relationship and  The Relationship Doctor's Prescription for Living Beyond Guilt.  Dr. Hawkins grew up in the beautiful Pacific Northwest and lives with his wife on the South Puget Sound where he enjoys sailing, biking, and skiing. He has active practices in two Washington cities.