New Outreach for Marriages in Crisis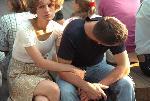 Branson, MO--Building on the foundation of The Smalley Relationship Center (SRC), a 20-year leader in counseling and resources for family relationships, Dr. Greg Smalley has formed a new non-profit ministry focused entirely on marriages in crisis, named the Smalley Marriage Institute. The Smalley Marriage Institute will provide intensive marriage therapy for couples in distress, small conferences for churches and up-to-date research in the area of marriage.

"Greg has a real heart for couples who are in distressed marriages," said SRC founder and relationship expert Gary Smalley. "The new Smalley Marriage Institute will allow Greg and his team to impact marriages in an even more significant way."

The new organization's mission is "Building, restoring and renewing the promise of a great marriage," with its central focus on marriage intensive sessions. The Smalley's Marriage Intensive Program, which was developed in the spring 1999 and previously part of the Smalley Relationship Center has an outstanding success rate. Internal research reflects that more than 90 percent of couples that complete the program stay in their marriages.

"A majority of the married couples in this country are struggling and over 50% are divorcing," says Dr. Greg Smalley, president of the Smalley Marriage Institute and son of SRC founder Gary Smalley. "Our unique intensive program model is restoring marriages and giving couples hope.  We are working diligently to turn the tide of divorce."

The Smalley's trademark intensive program is designed for couples who are experiencing serious trouble or who have the feeling of being perpetually "stuck." Hundreds of couples from across the country have participated in the 2-day and 4-day intensive programs. The vast majority of these couples are still together and experiencing a significantly higher level of marital satisfaction as a direct result of their participation in the Smalley program.

"I will only say that our marriage is new again...something I had almost given up on.  Other than the birth of my children, it was the most life-changing experience of my life," said an intensive graduate from Florida.

The Smalley Marriage Institute's non-profit status will allow couples to participate in scholarship programs, funded by charitable contributions. "Our goal is to ensure that cost will not be a barrier for those who are in need of intensive care to save their marriages," said Sue Head, ministry spokesperson.

For more information on the Marriage Intensive Programs (including Pre-Marital Intensive Programs), small conferences, speaking engagements or to make a donation, contact Sue Head at (417) 335-5882 or sue@smalleyonline.com.


ABOUT DR. GREG SMALLEY
Dr. Greg Smalley is the president of the newly formed Smalley Marriage Institute, based in Branson, MO.  He holds a doctorate degree in clinical psychology from Rosemead School of psychology at Biola University of Southern California.
Dr. Smalley is a well-established expert on marriage and family relationships, having appeared on a number of television and radio programs including "Focus on the Family" and "Hour of Power." He has published more than 100 articles on parenting and relationship issues and is the author of Bound by Honor (Tyndale/Focus on the Family 1998,) with his father Gary Smalley, Winning Your Wife Back and Winning Your Husband Back (Thomas Nelson 1999) and the Men's Relational Toolbox with Gary Smalley and Greg's brother Michael Smalley (Tyndale 2003).