Bunnies and Ham and Eggs, Oh My!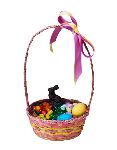 It's almost that time of year again. You're standing, dumbfounded, in front of a mound of hard boiled eggs, sliced ham and chocolate Easter bunnies. You wonder "what am I going to do with 6 dozen eggs, 6 lbs. of ham and 25 chocolate bunnies". The stress of it is almost enough to send you to bed for a week--or at least tear most of your hair out. Here are a few ideas and recipes from www.LivingOnADime.com to help you avoid both of those.
Leftover Bunnies:
Take a rolling pin to them and crush the life out of them.

Then use the crumbs to sprinkle on:
• ice cream
• use in milk shakes
• stir a few in a mug of hot chocolate
• use in place of chocolate chips for making cookies
• melt for dipping fruit and candy.
Leftover Ham:
Save bone for bean or split pea soup.
Make:
• ham salad
• chef salad
• ham sandwiches
Chop and freeze to use in:
• potato salad
• scrambled eggs
• omelets
• top baked potatoes
• potato soup
• scalloped potatoes
• au gratin potatoes
• pasties
• pizza- with pineapple.
Top tortilla with ham, salsa, and cheddar cheese and warm, for hot ham and cheese sandwiches.
Leftover Eggs:
Make:
• potato salad
• tuna salad
• pasta salad
• chef salad
• spinach salad with eggs and bacon
• deviled eggs
• golden morning sunshine
• fill tomatoes with egg salad
Golden Morning Sunshine
2 cups white sauce
4 eggs, hard boiled and chopped

Make white sauce. Once the white sauce has thickened, add eggs. Serve on toast.
White Sauce
1/4 cup dry milk
2 Tbsp. flour
dash salt
1 cup cold water
1 Tbsp. margarine
In a covered jar, combine dry milk, flour and salt and mix well. Add water. Shake until all the ingredients are dissolved. Melt margarine in a 1 quart sauce pan. Stir in flour-milk mixture and cook over low heat until mixture thickens and starts to bubble. Keep stirring until thickened completely.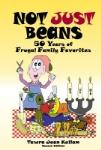 Tawra Kellam is the author of the frugal cookbook "Not Just Beans: 50 Years of Frugal Family Favorites." "Not Just Beans" is a frugal cookbook which has over 540 recipes and 400 tips. For more free tips and recipes visit her web site at www.LivingOnADime.com. In 5 years, Tawra and her husband paid off $20,000 personal debt on an average income of $22,000 per year.