Leave Some for Home
Dennis Rainey

Executive Director of FamilyLife Ministries

2001

24 May

COMMENTS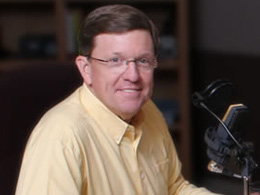 "An overseer...must be one who manages his own household well, keeping his children under control with all dignity." 1 Timothy 3:2,4
The apostle Paul required that an overseer in the early church be a man who was a good manager of his household. My dad was that kind of man. I remember him as a man of quiet authority, who had time for us.
What kind of memories will your children have of you as a father? Will they remember a father who spent time with them, played with them, laughed with them? Or will they think of you as someone who was preoccupied with work, unfinished projects or a hobby?
And now let's really get personal: What would happen if you switched the energy you give to your job with the energy you give to your home and family? What would happen to work? What would happen to your home?
I realize this may be an unfair question because by necessity many men work long hours away from home. But too many fathers give almost all their energy to their jobs and leave none for their families.
I have a friend who has a 3x5-inch card on his desk that reads: Leave some for home.
He realized that, without this reminder shouting at him daily, he'd go home with no energy most of the time. His job was that draining.
We need to balance things out if the next generation is to get the kind of leadership it needs.
Today we need fathers who are determined to save the energy to succeed at home, regardless of the cost.
As leaders and managers of our homes, we can't lead from afar. We've got to be there. And be all there!
Excerpted from Moments Together for Couples by Dennis and Barbara Rainey. Used with permission. Copyright 1995 by Dennis and Barbara Rainey. All rights reserved.
About the author: Dennis Rainey is the executive director of FamilyLife, an organization founded in 1976 with the goal of effectively developing godly families, one home at a time. Parents of six children, Dennis and his wife, Barbara, have written numerous books, including best-sellers Moments Together for Couples and The Questions Book for Marriage Intimacy.