Moments for Mom: New Year's Resolutions
Elizabeth K. Corcoran

Author

2004

22 Dec

COMMENTS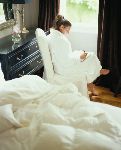 There is something about the New Year rolling around that always makes me look back. A friend of mine from high school used to call me nostalgic. For some reason, back then, I took that as a criticism…not sure why…I don't think she meant it as such. But these days of two young kids, a husband, home, part-time job, et cetera, et cetera, looking back feels like a luxury.
However, each year I make a point of doing some emotional and spiritual housecleaning to clear away the cobwebs and the things I'm holding onto, to help move forward with a clean slate. The way I have chosen to do this for probably about ten years now is to journal through the following questions that were given to me by a friend a ways back, and I want to share them with you.
• Who were the most stimulating people in your life (and why)?
• What was your most meaningful spiritual experience?
• What were your most significant family moments?
• What was the biggest contributor to your personal growth?
• What was the biggest blunder you committed?
• What caused your greatest sadness?
• What was your greatest joy?
I want to add just a couple:
• What was your best marriage moment this year?
• What is your fondest memory with each of your children?
• What friend moment will you cherish the most?
• What are you most thankful for this year?
• What one answer to prayer really blew you away?
I want to encourage you -- challenge you even -- to carve out time in the first couple weeks of January, with a notebook and pen in hand, and a steaming cup of coffee, tea or hot chocolate by your side, and just sort through these questions. Just think through your past year as if sifting through treasured photographs…answering them as honestly as you can…and then spend a few moments thanking God for taking such sweet, intimate care of you and your loved ones this year -- through the good and the bad.
Happy New Year, Moms!


© Elisabeth K. Corcoran, 2004

Elisabeth K. Corcoran is the author of Calm in My Chaos: Encouragement for a Mom's Weary Soul. She is wife to Kevin, and mom to Sara, 8, and Jack, 6-&-1/2. Her passion is encouraging women and she fulfills that through heading up the Women's Ministries on staff at Blackberry Creek Community Church in Aurora, IL and writing and speaking as much as she can. Calm in My Chaos (2001) can be purchased directly through her publisher, Kregel Publications at #1-888-644-0500 or www.kregel.com, at amazon.com, or through your local Christian bookstore. This article is original and not excerpted from her book.