Mother's Day: Bask in the Love of God
Elisabeth K. Corcoran

Moments for Mom

2005

2 May

COMMENTS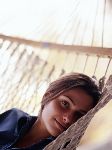 When I talk to moms at my speaking engagements, you know what I'm finding across the board? Women who wish they were doing better than they are in just about every area of life. I find women who don't think they are good enough at being a wife or a mom or a friend or a follower of God. I find women who are tired and who are trying hard and who see their efforts as paltry and wanting.
That breaks my heart, because I know that I know that I know that when their Creator looks at them, He is so filled with love for them, it's pretty much unimaginable. He sees each woman as the unique and beautiful creation of His hand. He sees each woman with such potential and through such eyes of love. In fact, listen to His words in Song of Solomon: Arise, my darling, my beautiful one, and come with me; show me your face, let me hear your voice; for your voice is sweet, and your face is lovely.
He loves the look of your face...He waits to hear the sound of your voice. He showers you with new mercies every morning. He shows you grace -- or to use a more current phrase, He cuts you slack. Don't you think it's time we start to do that for ourselves -- to borrow a concept from author Anne Lamott, to treat ourselves as kindly as we would a dear friend? Because, dear women, as we go about the tasks of our day-to-day, the most important thing about us -- the most important truth we need to remind ourselves of over and over again is this -- we are loved by God. No matter what...constantly, intimately, outrageously, ferociously, tenderly loved by God.
So, Happy Mother's Day --- you're doing just fine.


© Elisabeth K. Corcoran, 2005
Elisabeth K. Corcoran is the author of In Search of Calm: Renewal for a Mother's Heart (2005) and Calm in My Chaos: Encouragement for a Mom's Weary Soul. She is wife to Kevin, and mom to Sara, 8, and Jack, 6-&-5/6. Her passion is encouraging women and she fulfills that through heading up the Women's Ministries on staff at Blackberry Creek Community Church in Aurora, IL and writing and speaking as much as she can. In Search of Calm can be purchased through Xulon at 1.866.909.2665 or www.xulonpress.com or at amazon.com, or through your local Christian bookstore. Calm in My Chaos can be purchased at 1-888-644-0500 or www.kregel.com, at amazon.com, or through your local Christian bookstore. You can now visit her at www.elisabethcorcoran.com.