Gratitude Begets Joy
Elisabeth Klein

Crosswalk.com Contributing Writer

2013

7 Nov

COMMENTS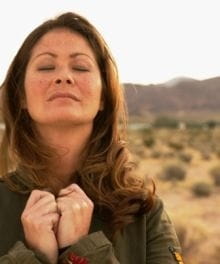 It's been a rocky few years as I've gone through a fifteen-month church-led reconciliation attempt, then a separation, then a rough divorce, and now as I transition to being a single mom to two teenagers and continue to work out my faith and healing in the midst of all this change and turmoil. Life can be really hard.
And yet, I continue to be amazed at the depth of blessings I have to be grateful for, something that my mind is turning to as we head into this season of fall and Thanksgiving and holidays.
One thing I've learned and relearned over the years is that deep joy always follows deep gratitude. And since I want my life to be filled with deep joy, I must chase after deep gratitude on a consistent basis.
So here are some questions I'm asking myself these days to stir this up in me.
How is my life better than it was a year ago?
What are five good things in my life that most people in the world do not have?
What are five good things in my life that I don't even need but are just added bonuses?
What lessons have I learned about life or my faith or myself or God this year that I wouldn't have learned had I not gone through whatever hard thing I have been going through?
How many people can I really count on in my life?
What is one area of growth I have seen in each of my children this past year?
How loved am I by God? (The answer should be "completely".)
Spend some time with these questions, even journaling through your answers as you head into this often chaotic season. Asking yourself these questions should give you a shift in perspective from Why me, Lord? to Thank you, Lord! And then, sit with the gratitude…wait for the joy. Happy fall; Happy Thanksgiving.
Elisabeth K. Corcoran, 2013
Elisabeth is mom to Sara (17) and Jack (15-1/2). She loves spending time with her kids, her friends, reading and writing. She is the author of At the Corner of Broken & Love; One Girl, Third World; He Is Just That Into You; In Search of Calm: Renewal for a Mother's Heart; and Calm in My Chaos: Encouragement for a Mom's Weary Soul. All these books can be purchased on Amazon.com. Her newest book, Unraveling, released with Abingdon Press in October.
Visit her website and her blog.
If you are in a difficult marriage or find yourself going through a difficult divorce, I have created two private groups on Facebook that I would like to invite you to. Simply email me at elisabethkcorcoran@gmail.com for more information.
Elisabeth is a proud Member of Redbud Writer's Guild.
Publication date: November 7, 2013