A Father's Presence
Dennis Rainey

Executive Director of FamilyLife Ministries

2002

6 Sep

COMMENTS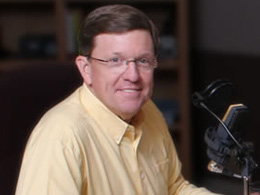 Q: Does my presence as a father really make a difference in my son's life?
Dennis: Yes it does. In fact, a father's involvement in the family is a key social issue today. It's a much bigger deal than, for example, the national debt. The major problem facing America isn't in Washington, D.C. It is in the hearts of the fathers in American homes.
What a boy can use, and too often doesn't have, are the heart of his father and the fellowship of men. A boy needs at least one man who pays attention to him, spends time with him, and admires him. A boy needs a role model, a man whom he can regard as a mentor.
From firsthand experience I can tell you how easy it is for dads to be selfish. I know how much I struggle against putting my own desires ahead of what my children need from me. I realize that I have a choice to make each and every day. I would much prefer to go home from work and read my newspaper, put my feet up, watch television, and not interact with them at all. By doing that I would not only miss their recitals, sports events, and PTA meetings, but I'd also miss out on them-what they value or where they are struggling or living with the blessing of having made a right choice.
Being the father that our sons (and yes, our daughters) need requires courage, not perfection. We can't be perfect dads. But what can we do? We have to learn how to reserve energy so that we don't come home from work so emotionally exhausted that we have nothing left for our kids. We can choose not to bend to selfishness but instead say "yes" to the next generation.
The question you need to ask yourself is, "Am I present not just physically but emotionally, relationally, and spiritually? Am I there with my kids?" Throughout your life you will answer these questions differently depending on how old your kids are, what's happening with your career, and what's going on with your marriage. These are good questions to ask from time to time. Are you asking them?
**********
About the author: Dennis Rainey is the executive director of FamilyLife, an organization founded in 1976 with the goal of effectively developing godly families, one home at a time. Parents of six children, Dennis and his wife, Barbara, have written numerous books, including best-sellers Moments Together for Couples and The Questions Book for Marriage Intimacy.