The Power of Praise in Parenting
Dr. Gary Smalley

The Smalley Relationship Center

2006

9 Feb

COMMENTS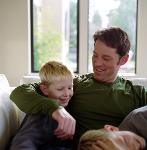 If, as a father, you had less than one minute each day to talk to your children, what would you tell them? Studies show that fathers, on the average, spend less than sixty seconds a day talking to their children, and most of that time is spent pointing out negative behavior.
However, the opposite of criticism is one of the most powerful motivating forces available to parents — praise. It can be used in a variety of ways. You might give your children ribbons for good behavior. You could take a picture of your child doing something that you really appreciate and put it in an album or hang it on the wall for everyone to see.
Michael was extremely dejecting after his first wrestling match. He had lost, and as I walked over to him, I could see tears trickling down his face. "Michael, that was great," I told him, ignoring his tears. "Your opponent has wrestled for two years and just think, the score was only two to one after two rounds. Mike, how did you keep up with such an experienced wrestler?"
Mike looked up and said, "They cheated me. They should have let me wrestle someone my own age and with the same experience." He paused and then added, "But I did put him down twice. Did you see that, Dad?" His face began to shine with excitement.
A year later, Mike decided to not go out for the wrestling team again. But the coach told him, "That's too bad, Mike. You have very good moves and great potential in wrestling." The conversation between Mike and the coach lasted no longer than one minute, but Mike's outlook on wrestling changed completely in those few seconds. That night Mike told me his coach said he was good in wrestling, and he asked if he could go out for the team.
As parents, we can motivate our children through praise. Instead of mentioning to them the two things they did wrong today, let's talk to them about the ten things they did right. You'll be amazed at the results.
© Copyright 2005 Smalley Relationship Center