The Problem with "Virtual Parenting"
Charles Colson

BreakPoint

2004

19 Nov

COMMENTS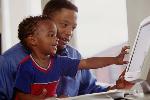 What if you could be with your child even when you were away from your child? Technology is making this idea a reality. More and more parents who have to be away for extended periods of time are using Internet hookups, webcams, and microphones to spend face-to-face time, so-called, with their kids.
Something like this could be a godsend for, perhaps, military parents or parents in prison. But like so much technology, this innovation has its darker side. In many divorce cases, it's being used as a substitute for personal parental time with a child. The nicknames given to this trend say it all -- nicknames like "virtual visitation" or "virtual parent-time." And the courts are getting on board.
And so a court allowed Paul Cleri's ex-wife to move out-of-state with their three children as long as Cleri could visit them -- virtually, that is, twice a week. Cleri is appealing the decision. His ex-wife's lawyer called virtual visitation "one step away from being there." But Cleri told the WASHINGTON POST, "I don't view virtual visitation as a practical alternative to physical contact. You can't hug a computer."
However, many other so-called "virtual parents" think virtual visitation is a lifesaver. Some have promoted legislation in their states to let divorced parents supplement their visitation time just this way. A host of websites like Distanceparent.org and books like Moms Over Miles help parents set up "distance parenting plans" and suggest activities parents and kids can do by webcam.
Yet even many virtual visitation advocates recognize its limitations. A site called InternetVisitation.org emphasizes, "Virtual Visitation should NEVER be used to replace or substitute in-person or face-to-face visits with your children." The trouble is, that's exactly what it's being used for. David Levy of the Children's Rights Council told the POST, "Some parents are encouraged to allow a move-away on the promise that there will be e-mail and phone contact, and now webcam access."
Even Jim Buie, author of several books and articles about the advantages of virtual visitation, is ambivalent about his own experience with his son, whose mother took him to live five hundred miles away. On his website, Buie wrote, "When I look at Matthew's life as a whole, I see some unmet needs. For me to try and fill them via e-mail, online chats, telephone conversations, monthly visits, on holidays and during the summer is unrealistic." Correct.
That's why, despite the good intentions of a lot of these parents, I think it's dangerous for virtual visitation rights to be used in custody cases. Divorce is traumatic enough for kids. Anything that encourages courts to let one parent move away from the kids, or take them away from their other parent, does more harm than good. It's just a new attempt to prove old myths that have already been discredited -- that is, that "quality time" is more important than "quantity time," that only one parent is really necessary, and so on.
Instead of buying into such fairy tales, the courts -- and the families involved -- need to make every effort to ensure that kids grow up near Mom and Dad. A virtual parent, no matter how loving, is no substitute for the real thing.


Copyright © 2004 Prison Fellowship

BreakPoint with Chuck Colson is a daily commentary on news and trends from a Christian perspective. Heard on more than 1000 radio outlets nationwide, BreakPoint transcripts are also available on the Internet. BreakPoint is a production of The Wilberforce Forum, a division of Prison Fellowship: 1856 Old Reston Avenue, Reston, VA 20190.