Violent Wave by Extremists Expected 'for Weeks' amid Roe v. Wade Decision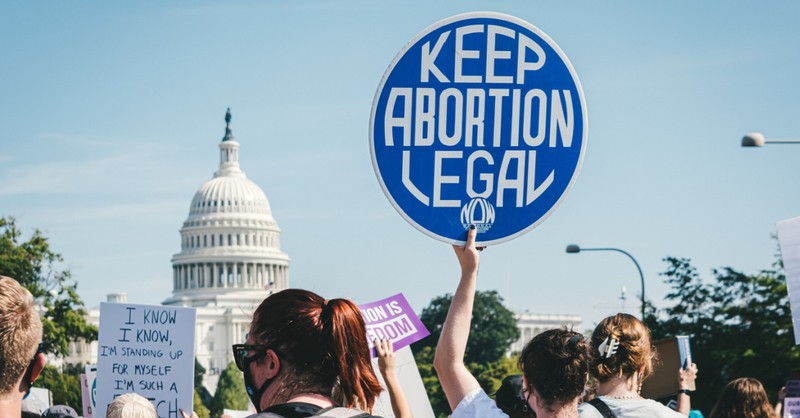 Violence by extremists following the overturning of Roe v. Wade is likely to last "for weeks," according to a Department of Homeland Security (DHS) report cited by ABC News.
The US Supreme Court has overturned Roe v. Wade, the 1973 decision that legalized abortion nationwide. Overturning the case means that individual states can now decide if abortion is permitted within their borders.
Judges and federal and state government officials are likely to be targeted by domestic violence extremists (DVEs), who are racially motivated by certain grievances, according to the bulletin.
The report, dated June 24, said, "We expect violence could occur for weeks following the release, particularly as DVEs may be mobilized to respond to changes in state laws and ballot measures on abortion stemming from the decision.
"We base this assessment on an observed increase in violent incidents across the United States following the unauthorized disclosure in May of a draft majority opinion on the case."
The bulletin added, "In May, a network of loosely affiliated suspected violent extremists, known as 'Jane's Revenge' – which has been linked to arson attacks against the buildings of ideological opponents – shared a post online encouraging a 'night of rage' following the Supreme Court announcement, stating, 'we need the state to feel our full wrath.'"
A DHS spokesman said the right to protest peacefully was respected – but not violence.
He said, "Americans' freedom of speech and right to peacefully protest are fundamental Constitutional rights. Those rights do not extend to violence and other illegal activity.
"DHS will continue working with our partners across every level of government to share timely information and to support law enforcement efforts to keep our communities safe."
The DHS predicts that extremists will target family advocacy centers and faith-based institutions. It also expects there to be protests outside of abortion clinics.
The report added: "First [A]mendment-protected events following the released decision also probably will be attractive targets for a range of DVEs to commit violence against ideological opponents.
"On 22 June, an unidentified social media user posted content encouraging violence in response to the 'night of rage' and told followers to 'prepare to defend' themselves and 'don't lock and load either. Load then lock,' according to US Capitol Police.
"In May and June, suspected DVEs opposed to abortion rights conducted arson attacks targeting a reproductive healthcare facility in Wyoming and a vacant building that was formerly a reproductive healthcare facility in Washington."
Related:
Evangelical Leaders React to the Overturning of Roe v. Wade
Supreme Court Overturns Roe v. Wade: It Was 'Egregiously Wrong from the Start'
Thank God Roe Is Gone, Now Let's Not Grow Weary
Photo courtesy: ©Gayatri Malhotra/Unsplash
---
Christopher Eyte lives with his wife Céline and three children in Swansea, Wales, UK. He has worked as a journalist for many years and writes his own blog (hislovefrees.life) encouraging others in their walk with Jesus. He became a Christian in February 2002, after a friend explained God's amazing grace!