Find Relief from Grief
Whitney Hopler

Live It Editor

2001

13 Sep

COMMENTS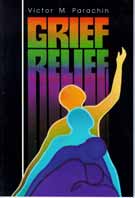 When someone you love dies, the grief you experience will likely feel at first as if it will completely overwhelm you. But as much as grief hurts, it won't destroy you if you turn to God. With God's help, you can heal from grief's wounds.
Here are some ways you can find relief from grief:
Realize that grief is normal, and allow yourself to fully experience your emotions, which may include shock, disbelief, anger, sadness, regret and anxiety. Have patience with yourself as you go through the grieving process, which lasts a different amount of time for each person.

Don't be afraid to cry. Tears can be therapeutic.

Invite the Holy Spirit to help you heal by transforming your pain into personal growth. Know that you can adjust to your loss and step into a positive future by accepting God's grace and investing your energy in new pursuits.

Hold a funeral service for your loved one. Funerals help people say goodbye to the deceased and honor him or her.

Be honest about your struggles with grief when talking with others, and accept support others offer you.

Keep a journal of your thoughts and feelings, and pray specifically about them, asking God to unleash His healing power in your life.

Take time to care for your physical needs, such as by eating healthy foods, exercising and getting the amount of sleep your body needs each night. If you have insomnia from worrying, pray for God's peace so you can sleep soundly.

Savor memories of your loved one, but don't live in the past. Seek God's presence with you now, and make plans for the future. Start new traditions if the old ones you shared with your loved one are too painful for you now. Begin new activities, especially ones in which you can serve others.

Maintain a sense of humor, and strive to enjoy life as much as possible.

Ask God's forgiveness for any unresolved issues between you and your deceased loved one. Also ask God for grace to forgive yourself if you're struggling with any regrets about your relationship with him or her.

Adapted from Grief Relief, copyright 1991 by Victor M. Parachin. Published by CBP Press, St. Louis, Mo., www.chalicepress.com, 1-800-366-3383.
Victor M. Parchin is an ordained minister in the Christian Church (Disciples of Christ). He has counseled many grieving people.

What are some ways that God has helped you through the grieving process, and what advice would you like to offer others who are grieving? Visit Live It's forum to respond, or read what others have to say. Just click on the link below.