Share God's love with Jewish people
Whitney Hopler

Live It Editor

2001

23 Jul

COMMENTS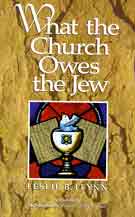 Jewish people have made deeply significant contributions to the church. Most importantly, of course, is that Jesus is Jewish. The first part of our
Bible
-- the Old Testament -- is Jewish, and the Jews gave us the knowledge of the one true God, the practice of observing a weekly Sabbath day, our value system, and the church itself (which began with Jewish members).
When you appreciate the vital links between Judaism and Christianity, you can be much more effective in reaching Jewish people with the gospel.
Here are some ways you can share God's love with Jewish people:
Confront and oppose anti-Semitism whenever you encounter it. When talking with Jewish people, acknowledge the mistrust of Jews that Christians have expressed for centuries, and seek healing. Realize that Christ's death shouldn't be blamed on a whole race of people, because only certain people (both Jews and Romans) participated, and Jesus prayed for them, "Father, forgive them, for they do not know what they are doing" (Luke 23:34). Understand also that the sins of every person helped crucify Jesus.

Pray for peace in Jerusalem, and for God to bless Jewish people's future.

Whenever you have an opportunity, share the gospel message with Jewish people. Build genuine friendships with them first, then help them discover the many Old Testament prophecies that Jesus fulfilled and the evidence that He is the Messiah.

Encourage your church to make Jewish evangelism a priority, through ways such as community service programs designed to help Jewish people and regular financial contributions to Jewish missions and humanitarian organizations that help Jewish people.

Show your support for Messianic Jewish congregations. Realize that Jewish Christians don't need to stop observing Jewish rituals in order to practice their faith in Christ. Visit a Messianic congregation yourself if you can, to appreciate the beauty of a worship service that incorporates both Jewish and Christian traditions.

Adapted from What the Church Owes the Jew, copyright 1998 by Leslie B. Flynn. Published by Magnus Press, Carlsbad, Ca., 1-800-463-7818.
Leslie B. Flynn is pastor emeritus of Grace Baptist Church in Nanuet, New York, where he served for 40 years.