EDITOR'S NOTE: This devotional offers 365 days of content that is run in perpetuity year-to-year. Unfortunately, there is no February 29 edition available to us, so after today, we'll see you again on March 1! In the meantime on Leap Year itself, we suggest checking in at crosswalk.com/devotionals for your devotional needs! Sorry for the inconvenience!
February 28
Beloved, let us love one another: for love is of God; and every one that loveth is born of God, and knoweth God.--I JOHN iv. 7.
So to the calmly gathered thought
The innermost of life is taught,
The mystery dimly understood,
That love of God is love of good;
That to be saved is only this,--
Salvation from our selfishness.
J. G. Whittler.
The Spirit of Love, wherever it is, is its own blessing and happiness, because it is the truth and reality of God in the soul; and therefore is in the same joy of life, and is the same good to itself everywhere and on every occasion. Would you know the blessing of all blessings? It is this God of Love dwelling in your soul, and killing every root of bitterness, which is the pain and torment of every earthly, selfish love. For all wants are satisfied, all disorders of nature are removed, no life is any longer a burden, every day is a day of peace, everything you meet becomes a help to you, because everything you see or do is all done in the sweet, gentle element of Love.
WM. LAW.
---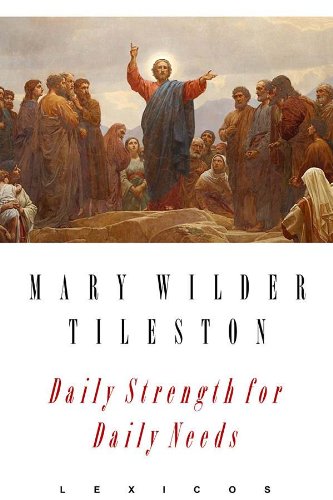 Purchase your own copy of this devotional.
Or, catch up on Daily Strength for Daily Needs in our Archives.