I have always felt a kinship with Jane Austen, since I started reading Pride and Prejudice over Christmas break my junior year of college. (And the biographers tell me I should call her Jane Austen or Austen but never Jane, which is far too familiar.)
After years of reading and re-reading not only P&P but also Sense and Sensibility and Persuasion and Emma and all the others, I began to feel like I had nowhere left to go. I knew the plot lines of Austen's books and was familiar with the corners of her fictional world. But I knew little about her life. I wanted to know the stories that made her who she was, the things she never wrote about, the characters of her family and friends, her navy brothers.
I read Carol Shields' biography, and Claire Tomalin's Jane Austen: A Life. I was thrilled to find Austen's own witty and at times caustic voice in Deirdre Le Faye's collection of her letters. I read her brother Henry's biographical sketch about the sister from whose pen "every thing came finished" and her nephew's glowing memoir about the aunt who , in his mind, conjured her romantic stories solely from "the intuitive perceptions of genius, not from personal experience." I wanted to see the Hampshire countryside, the old Norman-era church where her father had been rector, the site of the rectory with the hill Jane rolled down as a child, like Catherine in Northanger Abbey. Lovely Bath, where Jane stopped writing for so many years, taunted my curiosity as did the Cobb at Lyme, the houses in Derbyshire on which she may have based Pemberley, her brother's huge estates, the small cottage in Chawton where she sat to write in the room with the squeaky door so she could put her work away quickly if anyone disturbed her.
And that is how I found myself in the middle of a Hampshire wheat field, alone and nearly lost, on a sunny day in mid-July.
I spent a month following Austen's life through England, reflecting on the story of her life and my own. It was lovely, and life-changing.
Ironically, though now unbelievably popular, Jane lived a small life. She wasn't so much hemmed in by her Hampshire countryside and family and steady group of friends as she was at home in her quiet routines, her thriving simplicity. I don't know when the suspicion began for me, but for a while I have had a growing fear that my own life is small, when I crave bigness. I would like a grand contribution to the world to justify my existence and help define me. What thrilled Jane makes me panic. I don't want to be small. I want to be incredibly, unbelievably significant. (And yet, could anyone accuse Jane of being insignificant?) I know that part of that is good and spiritual—this desire for a life not to be wasted—and yet there is a great stroke of pride.
I hoped that somehow this proximity to Jane's life would help me understand my own. I kept a detailed journal of my trip, and came home glowing, only to be devastated by a serious and mysterious illness. For days—months—I could do nothing. I plunged into depression.
As I reflected on my trip in the midst of the silence and pain, I realized that Jane taught me something about the value of an ordinary life—things I'm not sure I could understand before I was stripped of being able to do even the ordinary. She did not want to be famous. She wanted to love her family and her friends, to live her faith rather than talk about it, to do good work, and tell good stories.
She enjoyed making money with her writing, and even developed a little jealousy, like any good writer. She felt Walter Scott should have been content enough with his success in poetry, without venturing into fiction. "Walter Scott has no business to write novels, especially good ones," she joked. "It is not fair.—He has Fame & Profit enough as a Poet, and should not be taking the bread out of other people's mouths." I don't think she ever knew that he owned several well-worn copies of her books.
And while Jane was—is—big, she never believed that being big was important.
And these are the things I want for myself, the things that became more important after my own dark night where I learned that there's no end to the grace of God—where it was big enough for every single day that I got up and could do nothing. It didn't matter if I could never write again, if I could never work again. God did not love me because of anything I could do; this still astonishes me. He simply loves me. Me, me, me. Sitting on the couch or sobbing or staring vegetatively at the TV.
All my life I've been taught to rely on the grace of God and yet in practice I've tried to earn His love, and my own significance, by running and doing. So it was a measure of grace to not be able to run any longer, to simply be forced to ... be.
And this is the paradox, because this life—this loving your family and friends and doing good work and telling good stories life—may feel small, but it is far from ordinary.
It is the best life, the extraordinary life. It was Jane's, and I hope it will be mine.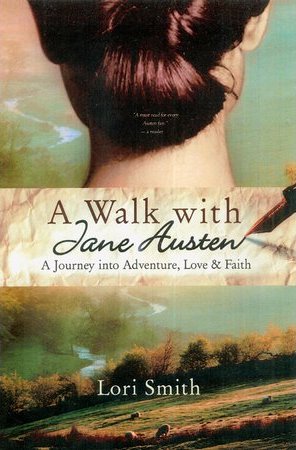 Adapted from A Walk with Jane Austen. Copyright © 2007 by Lori Smith. Used by permission. WaterBrook Press, Colorado Springs, CO. All right reserved.

Lori Smith is a full-time freelance writer whose first book, The Single Truth received widespread acclaim and was featured in a front page story in The New York Times. She has covered religion writing for Publishers Weekly since 2004, and her writing has been featured on Breakpoint.org and in Washingtonian magazine, Christian Single, and Discipleship Journal.

Her second book, A Walk with Jane Austen (WaterBrook Press), will be available in Ocotber 2007. Tracing the steps of her literary hero Jane Austen, Lori explores universal themes of love, heartache, community, independence, creativity, a woman's place in the world, and the rarely primed subject of Jane's faith—and Lori's own.