December 16

Thou understandest my thought afar off.--PS. cxxxix. 2.

Who can understand his errors? cleanse Thou me from secret faults.--PS. xix. 12.

My newest griefs to Thee are old;
My last transgression of Thy law,
Though wrapped in thought's most secret fold,
Thine eyes with pitying sadness saw.
H. M. KIMBALL.

Lord our God, great, eternal, wonderful in glory, who keepest covenant and promises for those that love Thee with their whole heart, who art the Life of all, the Help of those that flee unto Thee, the Hope of those who cry unto Thee, cleanse us from our sins, secret and open, and from every thought displeasing to Thy goodness,--cleanse our bodies and souls, our hearts and consciences, that with a pure heart, and a clear soul, with perfect love and calm hope, we may venture confidently and fearlessly to pray unto Thee. Amen.
COPTIC LITURGY OF ST. BASIL.

The dominion of any sinful habit will fearfully estrange us from His presence. A single consenting act of inward disobedience in thought or will is enough to let fall a cloud between Him and us, and to leave our hearts cheerless and dark.
H. E. MANNING.
---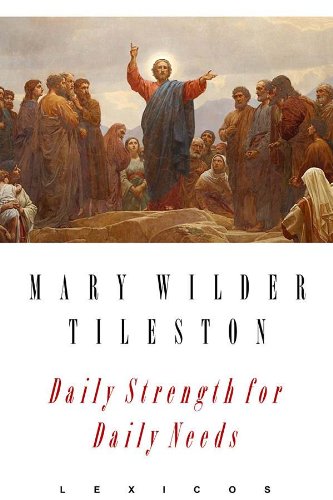 Purchase your own copy of this devotional.
Or, catch up on Daily Strength for Daily Needs in our Archives.