from Day by Day with the Persecuted Church

By faith Abraham, when called to go ... obeyed and went, even though he did not know where he was going. (Hebrews 11:8)
Abraham
Abraham's story begins with God. The Lord called him to leave all that he loved and go to the country of God's choice. Nobody had ever done that before. He had no examples of how God had led others. He could not say, as the Lord led them, so He will lead me. Yet he went - by faith.
Obedience to God's call is a true expression of one's faith in God. Such obedience may involve hardship. It was not easy for Abraham to leave his home and relatives and go to a land he did not know. We must be prepared to take up our cross daily to follow Him. Each step may involve an altar on which some part of the self-life needs to be offered. Abraham stood at such altars again and again, sometimes victoriously, at other times in failure and defeat.
Abraham did not know where to go. It was enough for him to know that he went with God.
As someone said, "I would rather travel with God in the night, than travel alone in the day."
Such people become God's friends.
Copyright [C] 1995 Open Doors International. Used by permission.
Click here to sign up for a free monthly newsletter from Open Doors about persecuted Christians.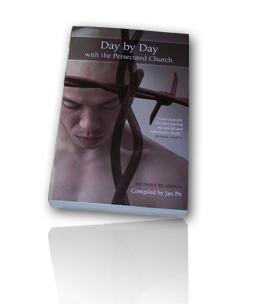 Day by Day with the Persecuted Church
compiled by Jan Pit with a forward by Brother Andrew (paperback, revised 2000)
Compelling wisdom from the pen of actual believers living amidst persecution, you'll be connected to the suffering, courage, and depth of life that exists in the harshest places in the world. Each of these 365 thought-provoking devotions will deepen your understanding of Christian persecution and provoke you to pray for our brothers and sisters with a new found depth.
To order your copy of this devotional, click