from Day by Day with the Persecuted Church

I want to know Christ. (Philippians 3:10)
Li An
Paul's greatest goal in life was, "That I may know Him, His character, His works, His grace."
But can that ever be achieved? God truly is a mystery. He has no beginning and no end. Who can comprehend this? How can we, simple, imperfect, foolish and insignificant human beings fully understand this sovereign and holy Lord?
Humanly speaking we can't. But praise God, He reveals Himself to us. He takes the initiative. It is His desire that we might know Him. That gives me confidence. We don't have to climb up to meet Him. No, He comes down to our level and communes with us.
That's where it starts. The closer our walk with Him, the better we get to know Him. Oh, for a closer walk with You - my Savior and my Lord.
Writer for the month - Li An from China. Because he is well-known in China, he requested that his real name was not published. We have used the pseudonym, Li An.
Copyright [C] 1995 Open Doors International. Used by permission.
Click here to sign up for a free monthly newsletter from Open Doors about persecuted Christians.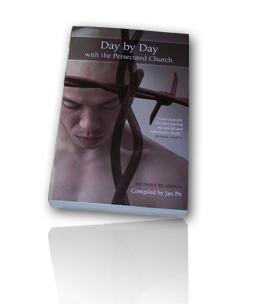 Day by Day with the Persecuted Church
compiled by Jan Pit with a forward by Brother Andrew (paperback, revised 2000)
Compelling wisdom from the pen of actual believers living amidst persecution, you'll be connected to the suffering, courage, and depth of life that exists in the harshest places in the world. Each of these 365 thought-provoking devotions will deepen your understanding of Christian persecution and provoke you to pray for our brothers and sisters with a new found depth.
To order your copy of this devotional, click