I met a woman recently, I'll call her Sally, whose story makes the challenges in my life seem like child's play.

It was 1975. Sally, a young native-born Vietnamese widow scraped together the thousands of dollars required to get herself and her three babies (ages 2, 3 and 4) onto a boat that would smuggle them out of Vietnam.

In the dark of night, with only the clothes on their backs and the money jammed into her pockets, she and 125 others boarded a tiny craft that would be their home for the foreseeable future. That's it. No food. No water. Nothing on board but 129 precious people in search of safety and a better life.
Due to the crowded, unsanitary conditions, it was standing room only. For 12 long days and nights, Sally clung to her babies, who were sick with hunger. For those torturous 288 hours, she prayed for safety, for endurance and for courage. More than once, passengers on her boat would jump overboard, believing that death in the sea would be better than life on the boat. Each time, the pilots would circle back and pick them up, lovingly telling them to hang on for just one more hour.

They did arrive, finally, in the Philippines. They were met with open arms, food, water and shelter. Here's the miracle: Not one person on Sally's boat perished. All 129 arrived, alive.

In time, Sally and her children were granted visas to emigrate to the U.S. Once here, she figured out how to work the hours her children were in school and sleeping. Sharing housing with others in her community provided childcare at night. She routinely held down three menial jobs, earning what most of us would expect from one job. Saving money was always her highest priority so that she could provide more for her children.

On her income, she put all three of her children through college, bought a home and now lives with her eldest daughter, who is married with a child of her own. Sally has seen her life come full circle.

What an inspiration Sally is to me. As one who is terrified of water anyway, and has trouble with the idea of being on a cruise ship, Sally's experience sends chills up my spine. Personally, I do not think I would have survived. I'm reduced to tears knowing what she and her children endured to live in freedom, not under the tyranny of a cruel regime.

What are you facing today? Foreclosure? Unemployment? Bill collectors? Compare your situation to standing room only on a tiny boat with no facilities, no food and no water. Now, add horrific weather and so much seasickness you are sure no one will survive. Your life is not so bad after all.

Thank you, Sally for sharing your life with me. I feel more blessed and grateful today than I have in a long time.
Copyright © 2009 Mary Hunt. All rights reserved. Permission to reprint required.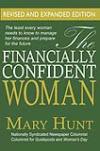 Check out Mary's recently released revised and expanded edition of The Financially Confident Woman (DPL Press, 2008).
Debt-Proof Living was founded in 1992 by Mary Hunt. What began as a newsletter to encourage and empower people to break free from the bondage of consumer debt has grown into a huge community of ordinary people who have achieved remarkable success in their quest to effectively manage their money and stay out of debt. Today, "Debt-Proof Living" is read by close to 100,000 cheapskates. Click here to subscribe. Also, you can receive Mary's free daily e-mail "Everyday Cheapskate" by signing up at EverydayCheapskate.com.