from Day by Day with the Persecuted Church


...The Lord said to Joshua ... Moses' assistant. (Joshua 1:1)
After these things, Joshua, son of Nun, the servant of the Lord, died... (Joshua 24:29)
Joshua
The book of Joshua starts with "Joshua, the servant of Moses."  It ends with "Joshua, the servant of God." Joshua was willing to be a servant of men. That qualified him to become a special servant of the Lord.
Servanthood was a very special aspect of Joshua's life. Many Christians are willing to serve God, but not each other. The disciples disputed who was the greatest among them. Christ looked right through their carnal problem. Whoever is willing to be the smallest among you will be honored by God. That can be said of Joshua. It took a long period of preparation. Servanthood of men has a price tag attached to it. If we are not willing to pay that price, we can never become a real servant of God.
The secret of Joshua's success can be found in Exodus 33:11.  "The Lord would speak to Moses face to face, as a man speaks with his friend. Then Moses would return to the camp, but his young assistant Joshua son of Nun did not leave the tent." Joshua delighted to be in the presence of God. His walk with God in secret (revealed by his willingness to serve Moses!) prepared Joshua for his very special leadership. Raised as a slave, trained as a servant, developed into a leader; Joshua, the servant of God.
Are you willing to go that same path?
Copyright [C] 1995 Open Doors International. Used by permission.
Click here to sign up for a free monthly newsletter from Open Doors about persecuted Christians.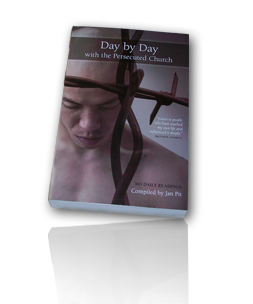 Day by Day with the Persecuted Church
compiled by Jan Pit with a forward by Brother Andrew (paperback, revised 2000)
Compelling wisdom from the pen of actual believers living amidst persecution, you'll be connected to the suffering, courage, and depth of life that exists in the harshest places in the world.  Each of these 365 thought-provoking devotions will deepen your understanding of Christian persecution and provoke you to pray for our brothers and sisters with a new found depth.
 To order your copy of this devotional, click