from Day by Day with the Persecuted Church


God is our refuge and strength, an ever-present help in trouble. Therefore we will not fear, though the earth give way.  (Psalm 46:1-2)
Mehdi Dibaj
In the story of Daniel's friends in the fiery oven, God teaches us an important spiritual truth, if we want to walk close to our Lord we must be willing to go into the fire because it is the safest place for us. Not only will our socks not burn, but our clothes will not even smell of fire.
I praise God that during these seven years that I have been in prison for my faith, the Lord Jesus Christ has been my strength in a wonderful way. I not only may walk close to Him in the midst of the fire, but I go forward as well.
He leads me through water and fire
He leads us in the way of the Cross.
Yes, God is our refuge and strength an ever-present help in trouble.
Mehdi Dibaj is from Iran. While this book was being compiled, Mehdi Dibaj had been in prison for nine years. Early in 1994 he was released, but was murdered six months later. His courtroom defense was edited to form part of this book.
Copyright [C] 1995 Open Doors International. Used by permission.
Click here to sign up for a free monthly newsletter from Open Doors about persecuted Christians.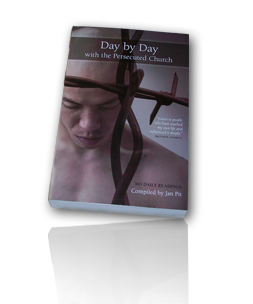 Day by Day with the Persecuted Church
compiled by Jan Pit with a forward by Brother Andrew (paperback, revised 2000)
Compelling wisdom from the pen of actual believers living amidst persecution, you'll be connected to the suffering, courage, and depth of life that exists in the harshest places in the world.  Each of these 365 thought-provoking devotions will deepen your understanding of Christian persecution and provoke you to pray for our brothers and sisters with a new found depth.
 To order your copy of this devotional, click