from Day by Day with the Persecuted Church


Praise be to the Lord, to God our Savior, who daily bears our burdens. (Psalm 68:19)
Mehdi Dibaj
On a busy road with strong winds and heavy traffic, the crossing of such a road is a frightening experience. A child would be very scared and cry, "Daddy carry me, Daddy carry me."
In our walk with God we often experience the same storms and danger. Sometimes the pressures are so intense that it seems impossible to go forward anymore.
In such storms, what should our attitude be? Is there any hope or help from God?
The Lord says; "Call upon me in the day of trouble. I will deliver you and you will praise me."
Yes, we may cast all our burdens upon Him, for He cares for us. He daily bears our burdens.
Mehdi Dibaj is from Iran. While this book was being compiled, Mehdi Dibaj had been in prison for nine years. Early in 1994 he was released, but was murdered six months later. His courtroom defense was edited to form part of this book.
Copyright [C] 1995 Open Doors International. Used by permission.
Click here to sign up for a free monthly newsletter from Open Doors about persecuted Christians.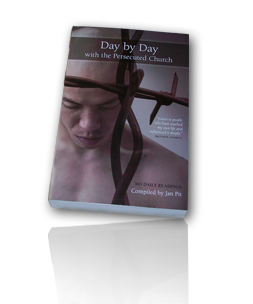 Day by Day with the Persecuted Church
compiled by Jan Pit with a forward by Brother Andrew (paperback, revised 2000)
Compelling wisdom from the pen of actual believers living amidst persecution, you'll be connected to the suffering, courage, and depth of life that exists in the harshest places in the world.  Each of these 365 thought-provoking devotions will deepen your understanding of Christian persecution and provoke you to pray for our brothers and sisters with a new found depth.
 To order your copy of this devotional, click