from Day by Day with the Persecuted Church

Make the most of your chances to tell others the good news. (Colossians 4:5)
Open Doors Contact Person - part 1
Pastor J and his wife were travelling by car from the southern part of Malawi back to Blantyre. Suddenly their car came to a standstill in front of an Islamic secondary school. Pastor J, thinking that his car was overheated, walked to a big rock nearby and sat on it, waiting for the engine to cool down. The scene attracted people from the vicinity, so Pastor J asked his wife to fetch the tambourine from the car and they began to sing some choruses. They saw the incident as an opportunity to share the Gospel. Eleven people surrendered their lives to the Lord - two of whom were Muslim students from the secondary school.
God can turn problems into opportunities, always - everywhere.
Copyright [C] 1995 Open Doors International. Used by permission.
Copyright [C] 1995 Open Doors International. Used by permission.
Click here to sign up for a free monthly newsletter from Open Doors about persecuted Christians.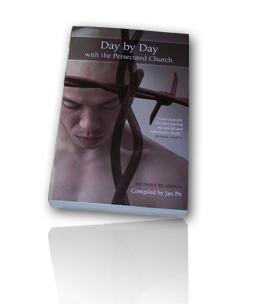 Day by Day with the Persecuted Church
compiled by Jan Pit with a forward by Brother Andrew (paperback, revised 2000)
Compelling wisdom from the pen of actual believers living amidst persecution, you'll be connected to the suffering, courage, and depth of life that exists in the harshest places in the world. Each of these 365 thought-provoking devotions will deepen your understanding of Christian persecution and provoke you to pray for our brothers and sisters with a new found depth.
To order your copy of this devotional, click