Jesus, the Leper and Me
by Berni Dymet
Matt. 8:2-3 "Lord, if you choose, you can make me clean." He stretched out his hand and touched him, saying, "I do choose. Be made clean!"
Leprosy is a horrible disease. And back in Jesus' day, it was fatal. 
Back then - lepers were outcasts. They couldn't live with their families or in their communities - they lived in separate leper colonies outside the safety of their towns and cities. In fact, if a leper came close to someone without leprosy - the leper would have to shout - "unclean, unclean".
So - when the leper came to Jesus and said - "Lord if you are willing, you can make me clean" - he was breaking every rule in the book. 
And Jesus - moved with compassion, reached out and touched the leper and said "I am willing - Be made clean!" And the leper was healed. An awesome miracle no doubt….but you know the bit that really gets me…the bit where Jesus is moved with compassion and he reaches out and touches the leper. 
The one thing that leper hadn't experienced since the day he became a leper. The touch of a human being. Compassion.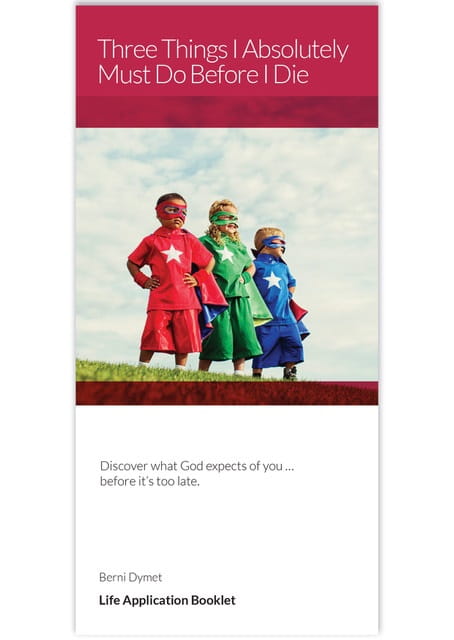 YOUR FREE BOOKLET – THREE THINGS I ABSOLUTELY MUST DO BEFORE I DIE
Here's a vital question for you to consider: If you died tonight, would you be ready for eternity? Now, many people know that it's all about having a simple faith in Jesus Christ. Nothing more, nothing less. But … do you have the sort of faith that Jesus talked about? To help you answer that question for sure, that's what our latest Life Application Booklet is all about: Three Things I Absolutely Must Do Before I Die. We would absolutely love to send you your very own FREE copy to help you make sure that you have the right answer, to the most important question of all.