from Day by Day with the Persecuted Church

Gideon made the gold into an ephod, which he placed in Ophrah, his town. All Israel prostituted themselves by worshipping it there, and it became a snare to Gideon and his family. (Judges 8:27)
Gideon
The story of Gideon does not have a happy ending.
Gideon put himself in a spiritual position which was impossible for God to bless.
The ephod was a precious tunic, worn by the priests when they were seeking God's will for the people. That robe Gideon acquired for himself. He installed his own worship service. Not in Shiloh, as God had ordained, but in Ophrah. Not performed by the Levites but by Gideon himself. In doing so, Gideon disobeyed God's order.
He had been called to be a leader, not a priest. God anoints whom He appoints. It is very dangerous to take upon ourselves all the different ministries that God has appointed in His Church. That can lead to pride and dictatorship. It became a snare to Gideon, however well-intentioned it may have been.
Work with whatever talents God has given you and do not covet other people's gifts. God will reward that attitude with His full blessing.
Copyright [C] 1995 Open Doors International. Used by permission.
Click here to sign up for a free monthly newsletter from Open Doors about persecuted Christians.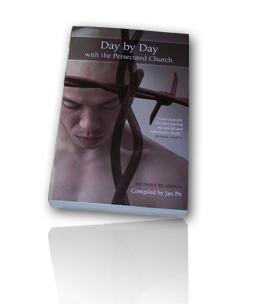 Day by Day with the Persecuted Church
compiled by Jan Pit with a forward by Brother Andrew (paperback, revised 2000)
Compelling wisdom from the pen of actual believers living amidst persecution, you'll be connected to the suffering, courage, and depth of life that exists in the harshest places in the world. Each of these 365 thought-provoking devotions will deepen your understanding of Christian persecution and provoke you to pray for our brothers and sisters with a new found depth.
To order your copy of this devotional, click