from Day by Day with the Persecuted Church

Though I walk in the midst of trouble, you preserve my life; you stretch out your hand against the anger of my foes, with your right hand you save. (Psalm 138:7)
Mona Khauli
Throughout and despite the war in Lebanon, the Lord has been my strength and my salvation. Nevertheless in moments of emotional despair, I have often asked myself; "Given a choice to relive those years would I perhaps opt for a change of course?"
My answer is no. I would never exchange the intimate fellowship with God for a more peaceful period of earthly existence. It is also true that I have often been near breaking point. During these times of distress Psalm 138:7 has been a great encouragement for me.
"You stretch out your hand against my foes, with your right hand you save me."
Both aspects are so real. The danger is that we too often only see the stretched out hand of our foe
May God continuously open our spiritual eyes for the other truth, "with your right hand you save me."
Writer of the Month: Mona Khauli from Lebanon. Instead of leaving her country to seek peace, she chose to stay at great risk. She testifies of God's miracles.
Copyright [C] 1995 Open Doors International. Used by permission.
Click here to sign up for a free monthly newsletter from Open Doors about persecuted Christians.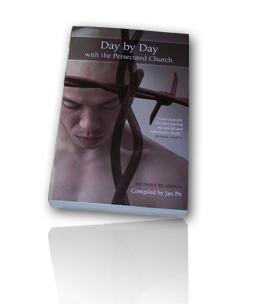 Day by Day with the Persecuted Church
compiled by Jan Pit with a forward by Brother Andrew (paperback, revised 2000)
Compelling wisdom from the pen of actual believers living amidst persecution, you'll be connected to the suffering, courage, and depth of life that exists in the harshest places in the world. Each of these 365 thought-provoking devotions will deepen your understanding of Christian persecution and provoke you to pray for our brothers and sisters with a new found depth.
To order your copy of this devotional, click