from Day by Day with the Persecuted Church

...Come, you who are blessed by my Father; take your inheritance, the kingdom prepared for you since the creation of the world. For I was hungry and you gave me something to eat, I was thirsty and you gave me something to drink, I was a stranger and you invited me in, I needed clothes and you clothed me, I was sick and you looked after me, I was in prison and you came to visit me. (Matthew 25:34-36)
Open Doors Contact Person
Queen Wilhelmina, former Queen of The Netherlands, wrote a book after her abdication entitled: Lonely but not Alone. The same title could be given to a book about the Suffering Church, "Lonely but not Alone."
A while ago, an Open Doors co-worker visited a church leader in Vietnam. He had brought several small presents and gave those to the pastor. They were gratefully accepted, but the pastor commented, "The greatest present to us is your being here. Now we know for sure that we are not forgotten. We often feel lonely, but God is always with us. Your visit means more to us than the presents you brought. Thank you for coming."
Flowers, a card, a short visit. How encouraging they can be. Those who bless the lonely will never be lonely themselves. "You who are blessed by my Father..."
Copyright [C] 1995 Open Doors International. Used by permission.
Click here to sign up for a free monthly newsletter from Open Doors about persecuted Christians.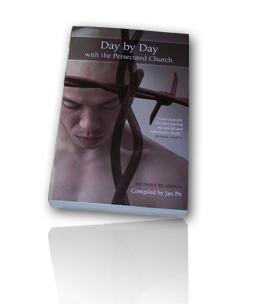 Day by Day with the Persecuted Church
compiled by Jan Pit with a forward by Brother Andrew (paperback, revised 2000)
Compelling wisdom from the pen of actual believers living amidst persecution, you'll be connected to the suffering, courage, and depth of life that exists in the harshest places in the world. Each of these 365 thought-provoking devotions will deepen your understanding of Christian persecution and provoke you to pray for our brothers and sisters with a new found depth.
To order your copy of this devotional, click