from Day by Day with the Persecuted Church

If any man will come after me, let him deny himself, and take up his cross and follow me. (Matthew 16:24)
Andrés Noriega
Denying ourselves is a voluntary and conscientious act. We make a definite decision which is equivalent to a complete and absolute surrender to our God. In doing so, we accept His plan for our lives and hand over the control to Him. He can make changes in accordance with His plan and purpose for our lives. To deny oneself and follow Jesus does not signify losing or winning. It does not nullify oneself but rather opens the way to be raised to the most noble standard of God's plan for our lives. To follow Jesus has consequences. To take up a cross involves struggle. "If they persecuted me, they will persecute you," Jesus said. (John 15:24) It means identification with Him who was crucified. But there is also another truth involved. "Rejoice that you participate in the sufferings of Christ, so that you will be overjoyed when His glory is revealed."
The ultimate consequence of following the Lord is not death by crucifixion, but life eternal through resurrection.
"I am the resurrection and the life ... and whoever lives and believes in me will never die." (John 22:25)
Andrés Noriega, from Cuba, shares about his life with the Lord. Despite the battle, his meditations witness to victory and faith. He writes under a pseudonym.
Copyright [C] 1995 Open Doors International. Used by permission.
Click here to sign up for a free monthly newsletter from Open Doors about persecuted Christians.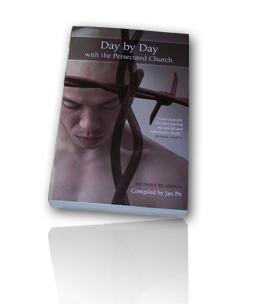 Day by Day with the Persecuted Church
compiled by Jan Pit with a forward by Brother Andrew (paperback, revised 2000)
Compelling wisdom from the pen of actual believers living amidst persecution, you'll be connected to the suffering, courage, and depth of life that exists in the harshest places in the world. Each of these 365 thought-provoking devotions will deepen your understanding of Christian persecution and provoke you to pray for our brothers and sisters with a new found depth.
To order your copy of this devotional, click