from Day by Day with the Persecuted Church

Your will be done.
(Matthew 26:42)
Hristo Kulichev
There are many believers who put their desires before God's will. They expect that God will satisfy their whims and wishes. God did it for Hezekiah, didn't He?
God's will for Hezekiah was, 'Put your house in order.' Instead of obeying God's will, Hezekiah pleaded with God to let him live a bit longer. God answered his prayer and added fifteen more years to his life because Hezekiah had followed the Lord with his whole heart. But the extra fifteen years were not a blessing. Not for Hezekiah, nor for his family or his nation. It was during those extra years that Hezekiah made a terrible mistake (2 Kings 20:12) showing all his possessions and riches to visitors from Babylon. God was not honored. Hezekiah was exalted - not God.
Let us be sons and daughters of the living God whose pleasure it is to do the will of the Father instead of God having to please us.
The greatest blessing for us is not when God satisfies all our desires, but when we obey His will. Then we will find real joy and full pleasure in our complete obedience to God.
Hristo Kulichev is from Bulgaria. He was imprisoned and exiled for almost four years for his faith in Jesus Christ. He now has a leading function in the Bulgarian Church and is also editor of the Evangelical newspaper Zornitza (Morning Star).
Copyright [C] 1995 Open Doors International. Used by permission.
Click here to sign up for a free monthly newsletter from Open Doors about persecuted Christians.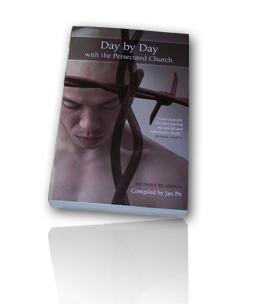 Day by Day with the Persecuted Church
compiled by Jan Pit with a forward by Brother Andrew (paperback, revised 2000)
Compelling wisdom from the pen of actual believers living amidst persecution, you'll be connected to the suffering, courage, and depth of life that exists in the harshest places in the world. Each of these 365 thought-provoking devotions will deepen your understanding of Christian persecution and provoke you to pray for our brothers and sisters with a new found depth.
To order your copy of this devotional, click