PAGANS WHO PREACH 
The most meaningful words I've ever heard in my own personal life were spoken to me by an atheist. I've heard every kind of preacher there is, but no sermon ever touched my life like this one. I was a freshman at the University of Alabama, far from home for the first time and unsure of myself and my place in the world. One of the guys in my dormitory was Walter Carroll. Walter had been in the Navy, and was the only guy in our dorm with a car—and he had a four-wheel-drive personality to match. He had seen and done it all. One afternoon we were sitting in Walter's room and he looked at me and said, "Edwin, do you believe in God?" I said, "Sure, I believe in God." Walter nodded, then said, "You know, I don't believe in God. I've studied all the major religions, and I just don't buy it. I guess I'm an atheist." He looked at me again and said, "But you really believe in God?" I said, "Yeah, Walter, I really do." Then the sermon…short and powerful: "You sure don't live like it. If I believed in God, I'd live different."
Walter was right, and I knew it. If I believed in God (and I did), then getting to know Him and living in harmony with His commands should be my number one assignment. Jonah knew God, but ran from God's assignment. When his get-away ship was about to be dashed on the rocks, the pagans onboard begged him to get up and pray! "If you have a God," they cried, "call on Him now!" Make no mistake. Pagans can preach. They can arouse a servant of God to action in a moment…and many times do. How about you? Do you believe in God? Does your life verify it?
MEMORY VERSE 
JONAH 1:6 How is it that you are sleeping? Get up, call upon your God…
READ THROUGH THE BIBLE 
Click here to sign up for your free Winning Walk newsletter!
OUR THANK YOU TO YOU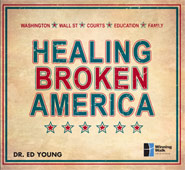 Healing Broken America
CD Series