from Day by Day with the Persecuted Church

Be self-controlled and alert. Your enemy the devil prowls around like a roaring lion looking for someone to devour.
Nicolae Gheorghita
I remember an exceptional day. I woke up feeling refreshed and read the text from Ephesians 6:11. "Put on the full armor of God so that you can stand against the devil's schemes." Everything seemed clear and peaceful. I heard myself praying, "Anything that Satan will try to do today against me will not be successful."
Everything went well, until one o'clock when we had a special meeting at the hospital where I was working. Prior to that meeting, a colleague was asked by a party official to stand up and accuse me. The colleague looked at me and said, "You, Dr Gheorghita, are using office time to read and translate Christian books." He was partly right. I read and translated books, but not during office hours. Instead of spending my lunch hour talking to the other doctors, I spent the time translating books. I knew that the man was being used to speak against me, I asked him to tell me the title of one of the books I had translated. He stuttered and could not answer. The hospital director then told the man that no further charges could be brought against me without proof.
I remembered the verses from Ephesians 6:11 and 1 Peter 5:8. The best way to be alert is in the confidence of God's presence in all circumstances. The battle is not ours but God's and then victory is assured.
Nicolae Gheorghita is from Romania. He became well-known as one of pastors of the largest Baptist Churches in Europe. Despite his status, his messages are characterized by their simplicity and servitude.
Copyright [C] 1995 Open Doors International. Used by permission.
Click here to sign up for a free monthly newsletter from Open Doors about persecuted Christians.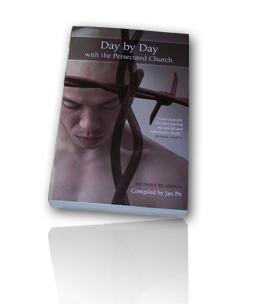 Day by Day with the Persecuted Church
compiled by Jan Pit with a forward by Brother Andrew (paperback, revised 2000)
Compelling wisdom from the pen of actual believers living amidst persecution, you'll be connected to the suffering, courage, and depth of life that exists in the harshest places in the world. Each of these 365 thought-provoking devotions will deepen your understanding of Christian persecution and provoke you to pray for our brothers and sisters with a new found depth.
To order your copy of this devotional, click