from Day by Day with the Persecuted Church

Take your son... and sacrifice him as a burnt offering. (Genesis 22:2)
Ferenc Visky
God speaks to Abraham and requires something from him. Abraham thinks of everything, except the fact that he has a God who asks something from him.
Nobody is aware that God can also ask for things. People like to ask for things and they like God to give. God asked Abraham to sacrifice his own beloved son and with it, He asked everything from him.
When I was deported together with my seven little children, the eldest of whom was eleven years old and the youngest only two, my biggest concern was not that all our possessions had to be left behind, that the door was closed behind us and that we would not return. The one thing I worried about was the seven little ones. What would become of them? Who would feed them and look after them?
Abraham obeyed and laid his son on the altar, though he did not know God's purpose. He only knew God Himself, for he believed Him and loved Him. Before Abraham sacrificed Isaac, he laid himself on the altar - by obeying God. Because he sacrificed himself first, he prevented the sacrifice of Isaac.
I knew I had to do the same thing. I cried for my children, but I had to lay myself on the altar first. And there, in that fateful situation, I experienced a miraculous surprise. Jesus had been there before. He did His Father's will and so I found that He was there when I was prepared to sacrifice myself and it meant salvation for me and my children.
Don't try to find an excuse when God takes you to the altar, for it is there that He Himself is waiting for you - in His beloved Son.
Ferenc Visky is from Romania. He and his wife write in a moving way about their life with the Lord despite heavy persecution.
Copyright [C] 1995 Open Doors International. Used by permission.
Click here to sign up for a free monthly newsletter from Open Doors about persecuted Christians.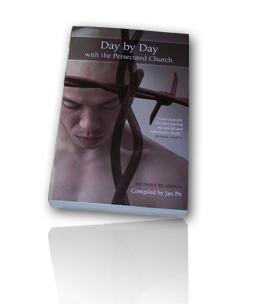 Day by Day with the Persecuted Church
compiled by Jan Pit with a forward by Brother Andrew (paperback, revised 2000)
Compelling wisdom from the pen of actual believers living amidst persecution, you'll be connected to the suffering, courage, and depth of life that exists in the harshest places in the world. Each of these 365 thought-provoking devotions will deepen your understanding of Christian persecution and provoke you to pray for our brothers and sisters with a new found depth.
To order your copy of this devotional, click