from Day by Day with the Persecuted Church

But a time is coming and has come when ... you will leave me all alone. Yet I am not alone, for my Father is with me. (John 16:32)
Ferenc Visky
In prison, and also outside, the realization of being delivered and then abandoned is the most difficult thing to deal with. In our cell, we began every new morning with worship. It is true that we had no Bible, but the Holy Spirit fulfilled the promise from John 14:26, "He will teach you all things and will remind you of everything I have said to you."
One morning, the following text came to my mind, "The time has come when you will all leave me alone." I pondered on the meaning of this text. What did it mean - leaving Jesus all alone? Does it mean that I must let You be the only one to stay with me, Lord? Will my brothers be taken away from me and will I be alone in this cell? No, it can't be true, Lord. After all, they prayed me back from death one time. They shared their last piece of bread with me and supported me in everything because I am the weakest of them. In my struggle, I clearly heard Jesus' voice, "Am I not enough for you?" I couldn't give a negative answer. "Yes, Lord, You're enough!"
After this, I felt relieved. I passed this text on to my brothers. A few minutes later, the door of the cell was opened and some Securitate© officers came in. They read out a list of names of people who had to move from the cell. I knew beforehand that they wouldn't read out my name. I was on my own now, yet I was not alone. Jesus' glowing presence filled my heart with joy.
Jesus' presence makes up for everything. You can be sure that He only takes something or someone away from you in order to give Himself even more fully.
Ferenc Visky is from Romania. He and his wife write in a moving way about their life with the Lord despite heavy persecution.
Copyright [C] 1995 Open Doors International. Used by permission.
Click here to sign up for a free monthly newsletter from Open Doors about persecuted Christians.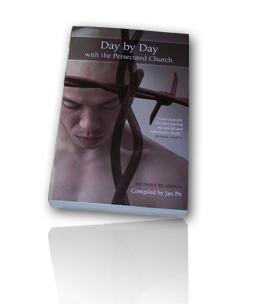 Day by Day with the Persecuted Church
compiled by Jan Pit with a forward by Brother Andrew (paperback, revised 2000)
Compelling wisdom from the pen of actual believers living amidst persecution, you'll be connected to the suffering, courage, and depth of life that exists in the harshest places in the world. Each of these 365 thought-provoking devotions will deepen your understanding of Christian persecution and provoke you to pray for our brothers and sisters with a new found depth.
To order your copy of this devotional, click