from Day by Day with the Persecuted Church

Your people will be my people and your God my God. (Ruth 1:16b)
Ruth
The story of Naomi and Ruth shows that the relationship between a woman and her daughter-in-law can be very good. Ruth's love for her mother-in-law is central in this story, but Naomi must have been a lovable and sweet mother-in-law to her as well, otherwise Ruth would undoubtedly have returned to Moab with Orpah.
Yet Ruth chose to stay with Naomi. Had she discovered something of Naomi's God through her life? She makes this clear by saying, "Your people will be my people and your God my God."
Ruth, the Moabite, is included in the history of Israel. She is even chosen by God to be the great-grandmother of David, the great king, from whose lineage eventually the Messiah would be born. That was every Jewish woman's dream. Yet this privilege was given to Ruth, the Moabite.
In Ruth, Jew and Gentile are brought together. The wall of partition is taken away. Ruth met Boaz in the fields of Ephrata. Years later, in those same fields their descendant, Jesus Christ the Lord, was born.
Never look down on a foreigner. God certainly does not do that.
God's curse on Moab was changed into salvation for all people. Ruth played an important part in that. That which is despised by people can still be used by God to fulfill his plan. Nobody is rejected by God. So Ruth becomes what her name means - a friend or companion.
We can move forward together towards full salvation because my God is your God.
Copyright [C] 1995 Open Doors International. Used by permission.
Click here to sign up for a free monthly newsletter from Open Doors about persecuted Christians.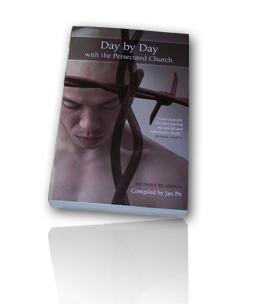 Day by Day with the Persecuted Church
compiled by Jan Pit with a forward by Brother Andrew (paperback, revised 2000)
Compelling wisdom from the pen of actual believers living amidst persecution, you'll be connected to the suffering, courage, and depth of life that exists in the harshest places in the world. Each of these 365 thought-provoking devotions will deepen your understanding of Christian persecution and provoke you to pray for our brothers and sisters with a new found depth.
To order your copy of this devotional, click