from Day by Day with the Persecuted Church

And a sword will pierce your own soul too. (Luke 2:35)
Mary
In our Protestant churches, we do not pay much attention to Mary. Maybe this is a counter-reaction to the over-attention that is given to Mary in the Roman Catholic Church?
Yet in this devotion we want to contemplate her life, her joy and her sorrow. It really is too much to summarize in a few words.
Shortly after Jesus' birth, while in the temple, Mary is confronted with the suffering that she will endure. "A sword will pierce your own soul." Just imagine what it must be like when that is said to you when your child is born!
Yes, the suffering of the child is the suffering of the mother as well.
About thirty years later, the sword pierces Mary's soul, as she watches the crucifixion and death of her son.
She suffers too, together with her child. She does not run from the place, even though it is almost unbearable to watch. She stays with her child. She sees His agony, hears the mocking, feels His pain. Which mother cannot identify with Mary?
Yet this is not the last time we meet Mary in the Bible. In Acts 1:4 she is mentioned again. She meets for prayer regularly with the other disciples. Her Lord (no longer her child) has ascended to heaven already. Her job as a mother has been completed, her task as a sister has started.
We do not worship Mary, but we do have to give her the place that she deserves. Most blessed amongst women. Bearer of the Child, her Savior and ours.
Copyright [C] 1995 Open Doors International. Used by permission.
Click here to sign up for a free monthly newsletter from Open Doors about persecuted Christians.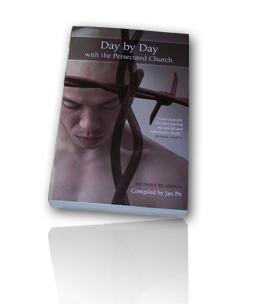 Day by Day with the Persecuted Church
compiled by Jan Pit with a forward by Brother Andrew (paperback, revised 2000)
Compelling wisdom from the pen of actual believers living amidst persecution, you'll be connected to the suffering, courage, and depth of life that exists in the harshest places in the world. Each of these 365 thought-provoking devotions will deepen your understanding of Christian persecution and provoke you to pray for our brothers and sisters with a new found depth.
To order your copy of this devotional, click