from Day by Day with the Persecuted Church

Like newborn babies, crave pure spiritual milk, so that by it you may grow up in your salvation. (1 Peter 2:2)
Li An
The Word of God nourishes us and meets the needs of our spiritual life. It generates in our hearts, causing us to grow gradually. Modern man prefers to listen to new and trendy teaching. It works temporarily as it is new and soothing to the ears. But it does not last.
"All men are like grass and all their glory is like the flowers of the field; the grass withers and the flowers fall, but the word of the Lord stands for ever" (1 Peter 1:24,25).
This is the pure spiritual milk which causes us to grow up in our salvation.
"I rejoice in following your statutes as one rejoices in great riches. I meditate on your precepts and consider your ways. I delight in your decrees; I will not neglect your word" (Psalm 119:14-16).
"The unfolding of your words gives light; it gives understanding to the simple" (Psalm 119:130).
"How sweet are your words to my taste, sweeter that honey to my mouth. I gain understanding from your precepts; therefore I hate every wrong path. Your word is a lamp to my feet and a light for my path" (Psalm 119:103-105).
(This meditation was edited from the booklet Morning Light compiled by Jonathan Chao, Chinese Research Centre.)
Brother Li An from China is a pillar of God's house in this vast land. Due to security reasons, we cannot introduce him further to you, but his testimony speaks for itself.
Copyright [C] 1995 Open Doors International. Used by permission.
Click here to sign up for a free monthly newsletter from Open Doors about persecuted Christians.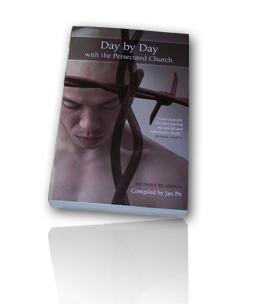 Day by Day with the Persecuted Church
compiled by Jan Pit with a forward by Brother Andrew (paperback, revised 2000)
Compelling wisdom from the pen of actual believers living amidst persecution, you'll be connected to the suffering, courage, and depth of life that exists in the harshest places in the world. Each of these 365 thought-provoking devotions will deepen your understanding of Christian persecution and provoke you to pray for our brothers and sisters with a new found depth.
To order your copy of this devotional, click